Oneida Lake
Sunday, 8 July, 2012
We launched from Godfrey Point and began our tournament at 6 AM.  The weather was cloudy, air temp. 61 deg., wind 5-10 mph SW, waves 1-2 feet.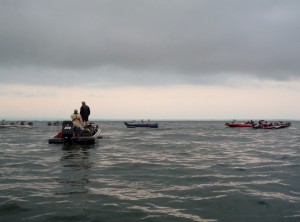 After a few hours the wind and the waves became minimal, only to have the wind pick back up around 12 Noon. After fishing for 7 hrs. we came off the water and began to weigh our fish.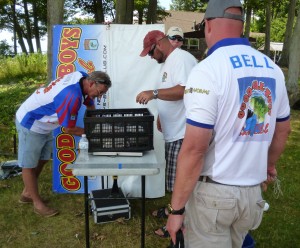 Jack Wilson II & Jack Wilson III begin to weigh the fish
Don Bell waits his turn to weigh in.
After the fish are weighed, they are released back into the waters of Oneida Lake, to be caught by other anglers.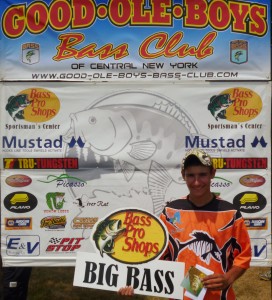 Bass Pro of Auburn Sponsored Big Bass:  Thomas Merritt 3.91 lbs
Tom has been fishing with our Jr. club and has made the move up to the Sr. club.  Good work Tom!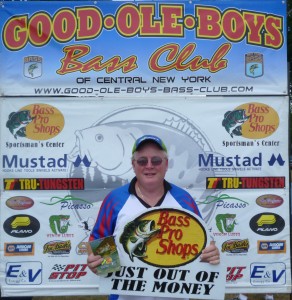 Bass Pro of Auburn, Sponsored: Just out of the Money, Dick Hyde @ 12.83 lbs.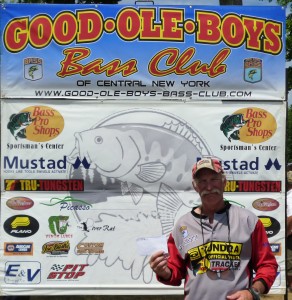 5th place: Ron VanBenSchoten @ 13.04 lbs.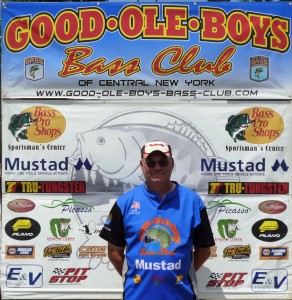 4th place: Tom Church @ 13.34 lbs.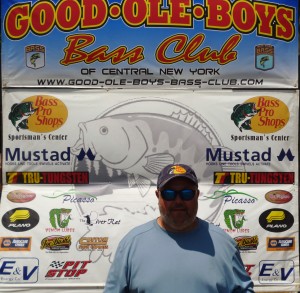 3rd place: Joe Valero @ 13.97 lbs.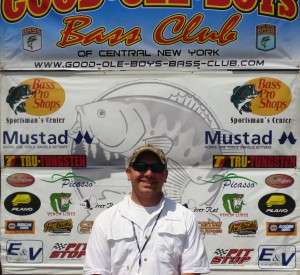 2nd place: Dave Ottman @ 15.12 lbs.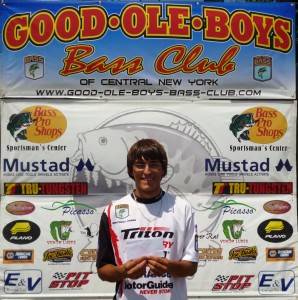 1st place: Mitchell Jones @ 15.26 lbs.
How did Mitchell do it.  Mitchell targeted both large and small mouth bass.  He used a swim bait for shallow large mouth bass and a jig for the deeper small mouth bass.  Mitchell also was one of our former Jr. club members now fishing with the Sr.'s and is headed off to college in the fall.