Water Chestnut Weed Pull
Oneida Lake
August 5 – 14th, 2013
Every year Salt City Bassmasters has conducted their conservation project.  The project consists of manually pulling water chestnuts from the water.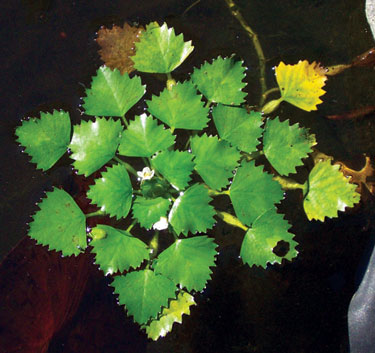 Water Chestnuts are an invasive species (not native to the United States).  They spread quickly with one acre of these plants producing enough plants to fill a space of 100 acres.  They can choke off waterways making fishing and boating very difficult.
Mike's Big Bay Marina was our host, allowing us to use their marina, docks, and electrical power for our conservation boat during this weed pull.  We would like to thank him publicly for helping us out.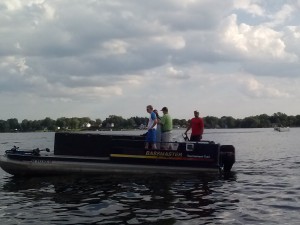 Mike Cusano and crew heading out for a weed pull in the NY State Bass Federation Conservation Boat.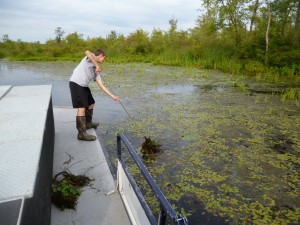 Here we are just getting started pulling weeds.  Using rakes and gloves we manually remove the weeds.  The alternative is chemicals to kill the weeds and for obvious reasons we do not use them.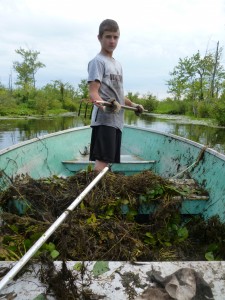 Barb Elliott, NYS Bass Fed. Conservation Director (and Salt City Bass V.P.) came up with an idea of using a row boat to get into the tight and shallow areas.  Big Bay Marina was gracious enough to allow us to use their row boats.
Salt City will continue this project for years to come and we are pleased to be able to help them where we can in their efforts.