Port Bay
Sunday, August 5, 2012
Located along Lake Ontario, North of Wolcott, NY we began our tournament at 6 AM and fished for 7 hrs..
Weather:  Our starting air temp. was 79 deg. F. with the wind at 12 – 20 mph from the South. Air temp. coming off the water, the air temp. 88 deg.. Cloudy with brief periods of sunshine.
Water surface temp. 79 deg. F. with 6 – 12 inch waves.  This combined with the wind made boat handling in some areas difficult.
At 1 PM with the weather beginning to change toward rain and the wind picking up we returned to the launch site to begin the weigh in.
All the fish that are brought to the weigh in station are kept in water until they are weighed.  After the are weighed, they go back directly into the bay so others may enjoy catching them at a later date.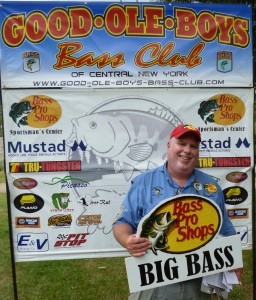 Big Bass, Sponsored by Bass Pro Shops of Auburn, NY
Bill Kays @ 4.83 lbs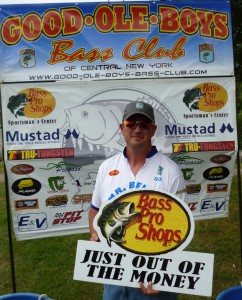 Just out of the money, Sponsored by Bass Pro Shops of Auburn, NY
Don Bell @ 12.52 lbs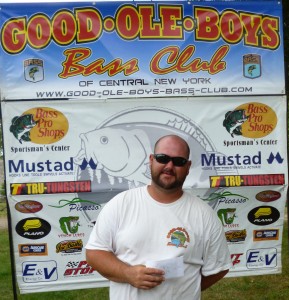 5th place, Jack "Jake" Wilson III @ 12.98 lbs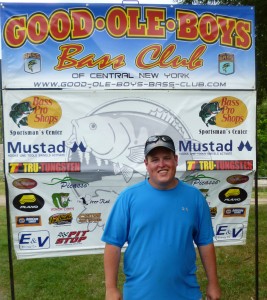 4th place, Evan Interlichia @ 13.29 lbs.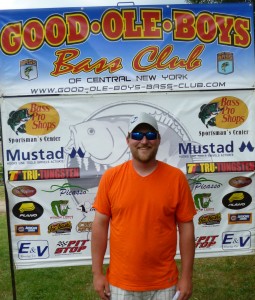 3rd place, T.J. Church @ 14.18 lbs.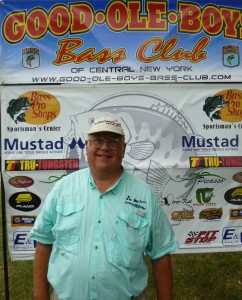 2nd place, Fred Blom @ 15.33 lbs.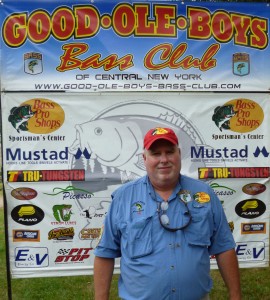 1st place, Bill "Coach" Kays @ 16.96 lbs.
How did Bill Kays get his Big Bass and also end up in 1st place you might ask?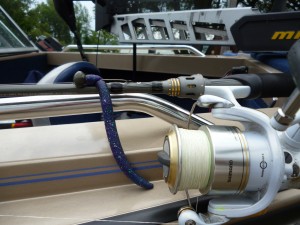 Bill used this simple jig and worm set up on a spin casting rod and reel.  He would then cast this combo up under the docks along the bay, thus getting his big bag of 16.96 lbs of fish.  He purchased these items at Bass Pro Shop of Auburn, NY
Sometimes there is more to life than winning 1 – 6th place in a tournament.  There is such a thing as personal triumph and this next picture is that.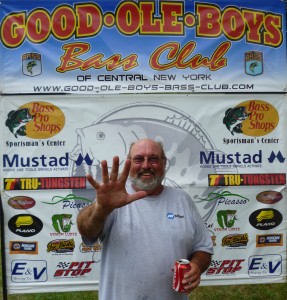 Dave Donhauser came up to the banner as we were finishing and said take my picture, take my picture. Dave was holding up his hand with 5 fingers raised up.  When asked why?  Dave replied, " I caught 5 fish, I caught 5 fish, I have been in a slump".  So Dave congratulations on maybe getting out of the slump and here is to having what fishing should be, FUN!