Fish Line Recycling Project
2013
Over the past several years our club has erected fish line recycling tubes over a 4 county area surrounding Syracuse, NY.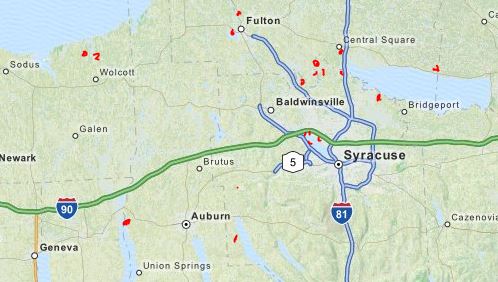 We have approx. 18 tubes set up at various locations marked in red.
     What started out as a collection of fish line turned into a bigger project.  Along with the fish line came trash that we found either in the tubes or on the ground surrounding the tubes.
Along with the fish line that was collected came trash that was in the tubes.  We then began to clear the area surrounding the tubes of trash and recyclable items
This year we collected nearly 60 garbage bags of trash, along with the fish line.
Along with the trash we collected 2.5 lbs of fishing line.  Enough line to nearly fill a 5 gal pail!  A reel of fish line weighing 1 lb. filled with 10 lb. fishing line contains 5,000 yards of fish line.
It takes 500 years for fish line to break down in the environment.  The fish line is shipped to Berkley for recycling and made into submersible fish habitat, 
Our designs for our fish line recycling tubes and reporting is in cooperation with Boat US