Seneca Lake
Paper tournament
Sunday, May 21st 2006
Well, we pick another cold windy day to go fishing. Thank god for good rain suits that kept us dry and warm.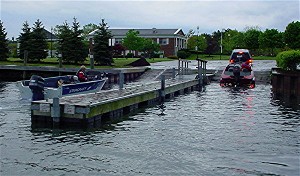 Tom Hudson and Dick Hyde launch their boats
This tournament is a "paper" tournament. For an example of what a paper tournament is and how we run one, click on the link on the left.
We launched at 7:00 a.m. and was fishing for the full 7 hours, returning to the dock at 2:00 p.m.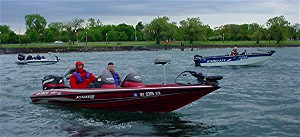 Some of the boats getting ready to blast off.
The wind was blowing from the west up to 40 mph during the day, we had rain, and even some hail. The west side of the lake was smooth enough to control your boat, but the water was 49 degrees. On the east side the water was 52 degrees, but the waves were 2 to 3 feet and the water was quite muddy.
When some of the members practiced on Wednesday, the water was 54 degrees all over the lake and the fish were very active. The three boats that were out then all caught 20 of more bass in the outing.
But today, that was another story. Everyone boat did catch fish, but the numbers were way down.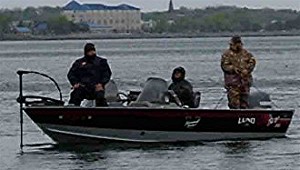 Connell, Bruce and Brad are all "wrapped up" in the cold.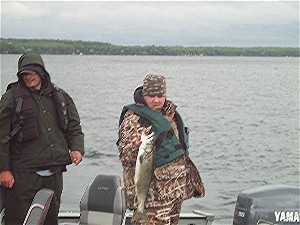 Brad Rogers shows of a nice lake trout.
The picture above shows how cold that lake was on the west side. Casting for bass in 5' of water and Brad catches a lake trout. Most of the smallmouth bass that were caught was caught on the east side, but controlling a boat was next to impossible.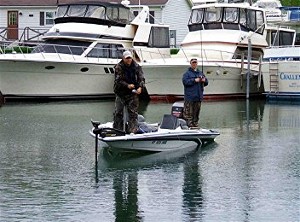 Chris Cartwright and Chris French "in the canal"
I think we were all happy to see 2:00 p.m. come when we could de-water and start the awards.
Boats are out and the tournament committee is adding up the inches.
When all was done, third place goes to Jack Loughrey and Brad Rogers with 96 3/4 inches of bass.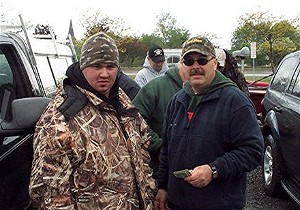 Brad and Jack with their winnings.
Second place went to Tom Hudson and Chris French with 126 1/2 inches of bass.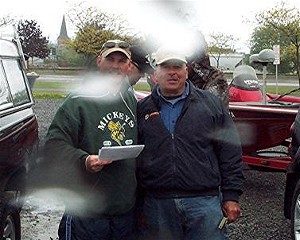 Chris and Tom ( and also some rain drops on the lens)
And first place goes to Chris Cartwright and Ryan Smith with 138 inches of bass.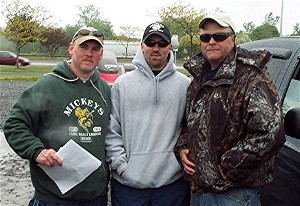 Treasurer Chris French awards Ryan and Chris Cartwright their winnings.
I'm sorry but I did not get a picture of what Chris used, but he did go way up the canal to catch his fish. I'm sure that he could control his boat better out of the wind and maybe the wind was not effecting the fish as much in there.