Sandy Pond
Sunday July30th 2006
Another great day to go fishing.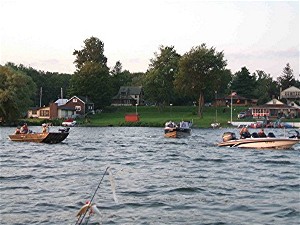 This year we launched out of "The Wigwam". Although backing the boats in is a little challenge, they have "LOTS" of dock space,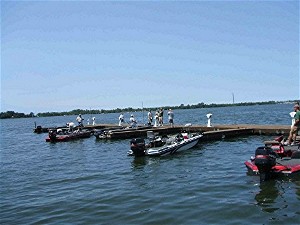 and a great place to eat after the weigh-in.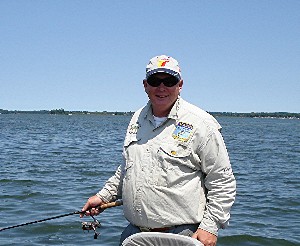 Dick Hyde always has a smile.
Fishing on Sandy Pond is very exciting. As a whole, the fish are LARGE, and you never know when that 5 plus pounder will bite. But also the fishing can be quite slow until the bass turn on, and then, look out.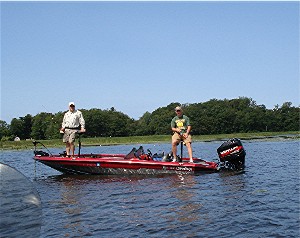 Jack Loughery and John Nye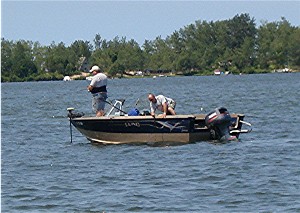 Bill Kays and Garrett Kinney
We fished until 1:00 pm, and then weighed in our fish.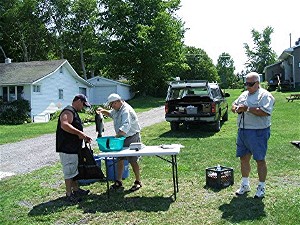 Some of the first fish come to the scale.
After all the fish are entered and released alive, the awarding of prize money takes place.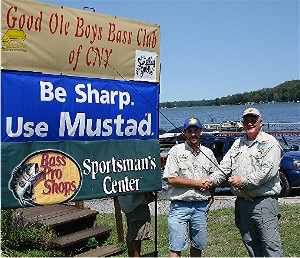 Dick Hyde from Bass Pro Shops awards the IM8 Graphic Rod to Eric Wilsey.
The Bass Pro store in Auburn has generously donated IM8 Graphic rods and Bass Pro hats to be awarded to the angler that finishes just out of the money (6th place) each week. This week Eric Wilsey gets the rod and hat.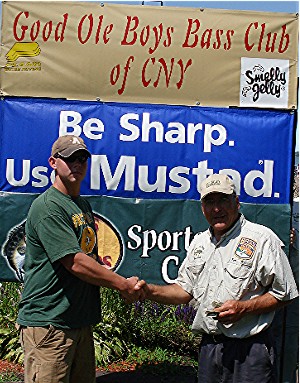 John Nye takes 5th place.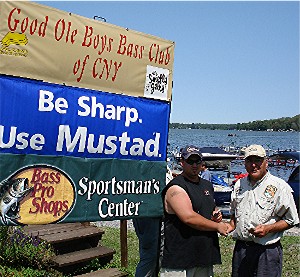 Brad Rogers takes 4th place.
President Tom Hudson presents the money.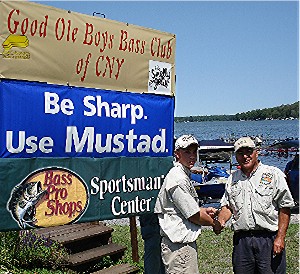 Aaron Sheldon takes 3rd place
Chris Cartwright takes 2nd place
And first place goes to Ryan Smith with 5 fish weighing in at 17.50 pounds. A average weight for tournament fishing on Sandy Pond.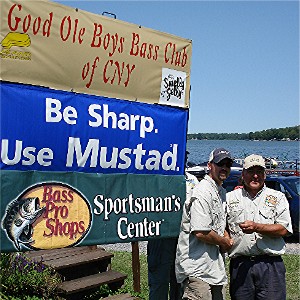 And first place goes to Ryan Smith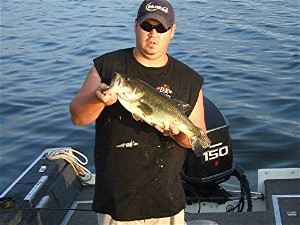 Brad Rogers takes big bass with a 5.20 pound largemouth.
And now, how did Ryan do it this week.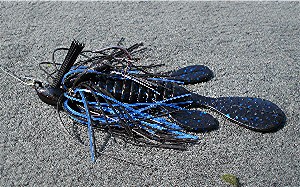 Ryan worked a black and blue 3/8 oz jig dress up with a Gambler "Ugly Otter" (available at Bass Pro) in the deep weeds off the island in the bay. Ryan had a slow morning, but when the bass turned on at 11:30 a.m., he "stuck" the winning bag.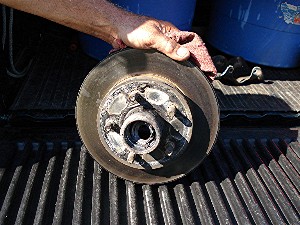 This hub has had it. Boat anchor anyone?????
On the way home, Jack Loughery "cooked" a wheel bearing. This can happen to any of us, and Jack was ready in case it happened to him.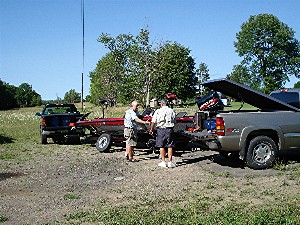 Friends helping friends.
Jack pulled of into a gravel parking lot and all the other members following him jumped in and helped him change the hub. Jack had a spare hub, and between the other members, we came up with the tools needed to change it.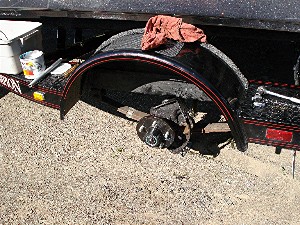 New hub on and ready for the tire.
One hour later, we are "on the road again".