Port Bay
Sunday, June 20th 2004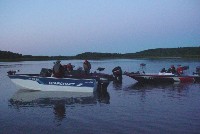 Blast off was at 5:15 am, here some of the boats await the go signal
Well. again like last year, we had to fish the day after a cold front. But, what a great day on the water. The air temp was 50 degrees at blast off, but it warmed up to the high 60's by noon. The sky was cloudless, and we had only a light 10 MPH wind until 9:00 am. then we were fighting a 20 MPH wind out of the NW.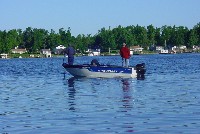 Tom Hudson and Garret Kinney work a weed line out of the wind.
These cold front days are hard fishing, but being a teaching club, this is good practice for us.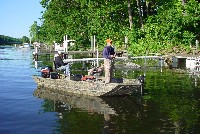 Ryan Smith and Eric Wilsey working docks on north west side of the bay.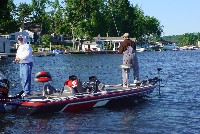 Larry LaClair and Jason Adams on a weed bed and point.
As the morning went on, almost everyone ended up working the deep weeds. Some used Venom tubes, some jig & pigs, and some even went to worms rigged "whacky" style.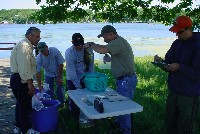 At 12:00 noon, the weigh table is set up and weighing-in starts.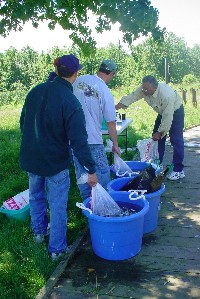 Some of the members wait their turn at the scale.
When everyone was weighed in, here is the five top places.
Larry LaClair, 5 fish, 11.87 pounds.
Don Crofoot, 5 fish, 10.43 pounds
Jack Loughrey, 5 fish, 10.30 pounds
Dick Hyde, 5 fish, 9.34 pounds
Ryan Smith, 5 fish, 9.33 pounds.
Big Bass went to Garret Kinney with a 3.50 pound largemouth.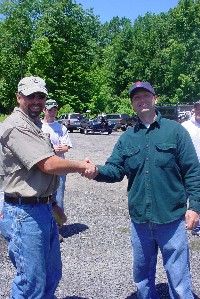 Treasure, Crag Raponi congratulates Larry LaClair and pays him his first place prize money.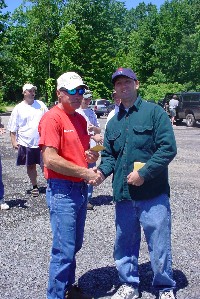 Don Crofoot takes second place.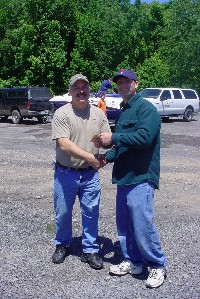 Jack Loughrey takes third place.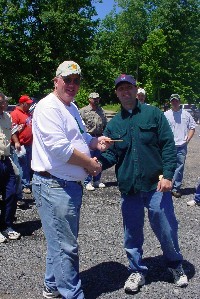 Dick Hyde takes fourth place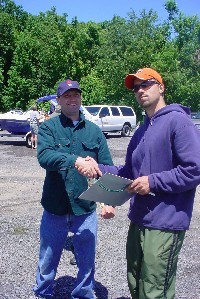 Ryan Smith takes fifth place
Now, how Larry did it.
Larry will jig and pig whenever he can and today it again proved to be the winning presentation.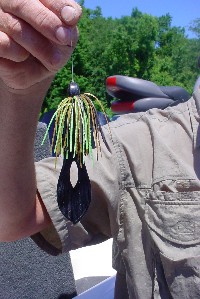 Larry was using a brown and chartreuse jig with a black and blue plastic craw trailer. He was working the outside of the weed beds, and culled about 15 fish to get his winning weight. As most of us, he also was catching many smaller fish, but got enough bites to up his catch to the 11.87 pounds. Typical cold front day, small fish, and even those are deeper then normal.