Oswego River South
Sunday August 6th 2006
The day broke clear, wind free and just a little fog.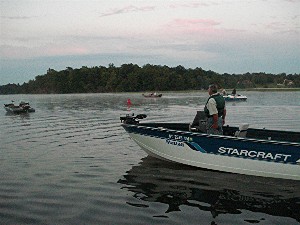 Some of the boats mill around waiting for the rest to launch.
We launched out of "Stop 28", just across from the old Miller plant on route 57 south of Fulton. There is no docks here so loading non-boaters require beaching your boat.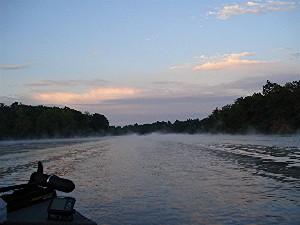 The run up the river was beautiful. "Roster tails and fog"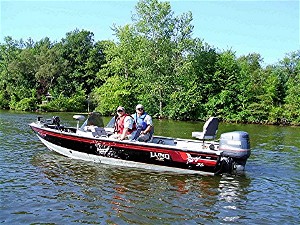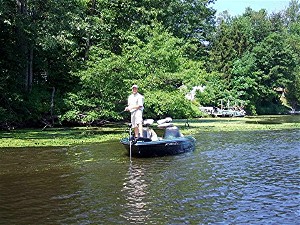 Connell Raate & Chris French "just visiting" Aaron Sheldon on his weed bed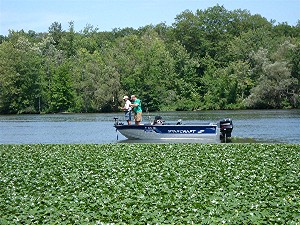 Tom Hudson and John Nye along the water chestnut.
Fishing on Oswego River south can be both frustrating and fulfilling. As a whole, the fish are LARGE, and you never know when that 5 plus pounder will bite.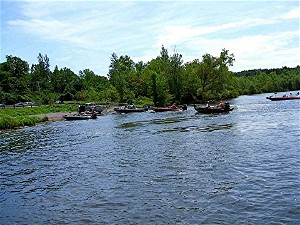 Boaters bringing there non-boaters to the shore to get the trailers.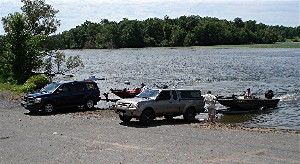 Two boats load at the same time when it's time to pull out.
We fished to 1:15 p.m., pulled the boats and started our weigh-in in the parking lot across route 57.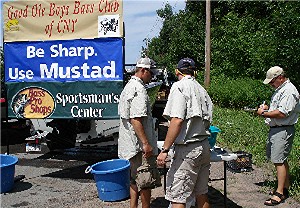 Eric Wilsey has his fish weighed as Jack Loughery records the weight.
As the fish come to the weigh station, we start taking pictures of the bass that we think will be in for big bass for the day.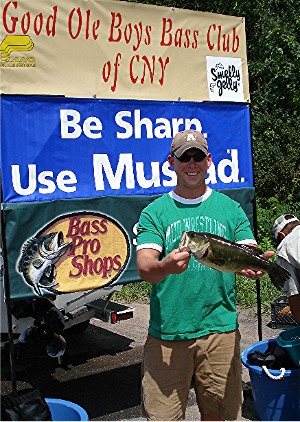 John Nye shows off his big fish, 3.52 #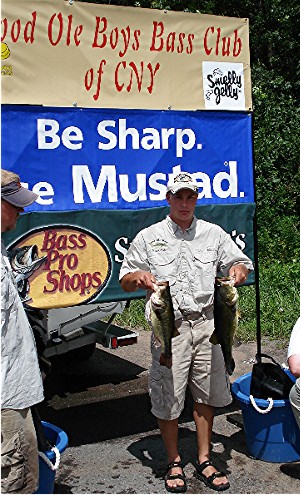 Aaron Sheldon shows of his two biggest fish, 4.49 & 4.67#
The fish above are nice bass, but not big enough for the big bass of the day.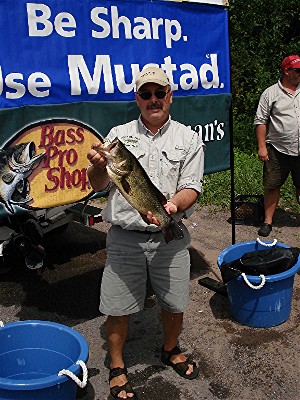 Jack Loughery shows off his "hog", a 5.24 pound beauty.
Jack Loughery was busy recording the weights of the other anglers, so when his time came to weigh-in, he pulls out this hog.
After all the fish are entered and released alive, the awarding of prize money takes place.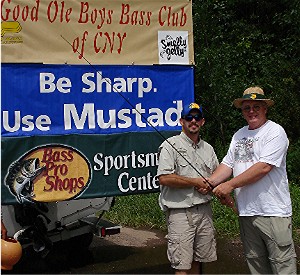 Dick Hyde from Bass Pro Shops awards the IM8 Graphic Rod to Eric Wilsey.
The Bass Pro store in Auburn has generously donated IM8 Graphic rods and Bass Pro hats to be awarded to the angler that finishes just out of the money (6th place) each week. This week Eric Wilsey gets the rod and hat. (That' twice in a row Eric !!!!!)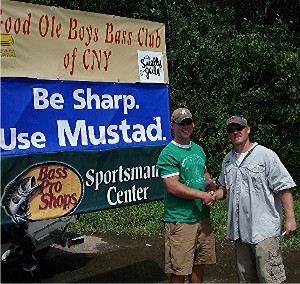 John Nye takes 5th place.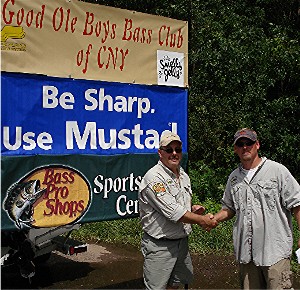 Jack Loughery takes 4th place.
Treasurer, Chris French presents the money.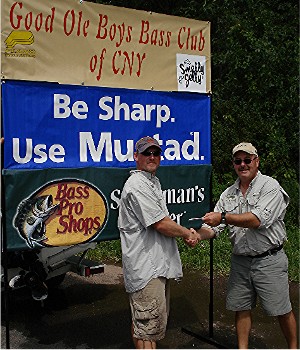 Chris French takes 3rd place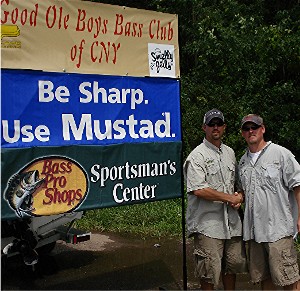 Ryan Smith takes 2nd place
And first place goes to Aaron Sheldon with 5 fish weighing in at 16.99 pounds. A average weight for tournament fishing on the Oswego River.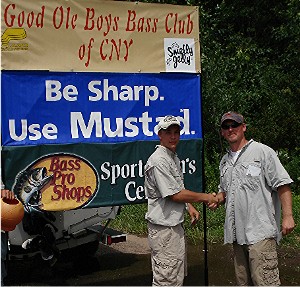 Aaron Sheldon takes 1st place.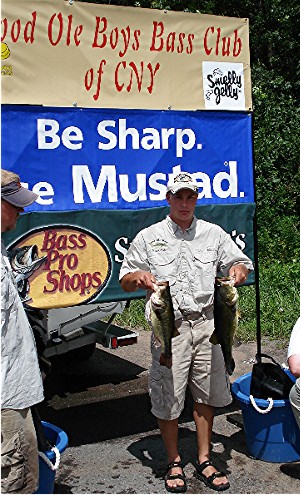 Aaron shows off two of his fish.
.
And now, how did Aaron do it this week.
We are going to start giving the weather stats for our tournaments. Look for them from now on.
Light south wind 5 mph, clear skies. Water temp.78 degrees. Air temp. 60 degrees in the morning warming to 80 degrees by 1:00 p.m.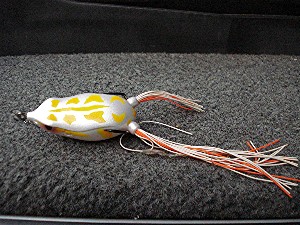 He lost the white frog, so this "froggy" is standing in.
Aaron worked a white rubber frog over the mats early in the morning, catching one of his 4 plus pound bass.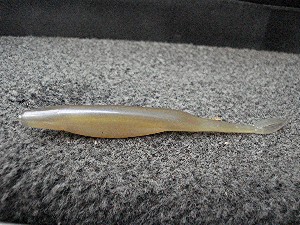 Another stand-in. The fluke he used was destroyed.
And latter in the day worked a white fluke off points in the river, where he boated another 4 plus pounder. He stayed in 4 to 7 feet of water all morning.