Oneida Lake
August 1st 2004
Just another great day on the water. Up to about 9:00 am there was little wind, and then just a light NW breeze picked up.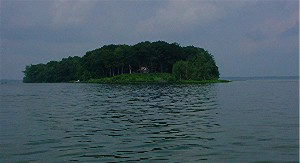 One of the islands. Note how smooth the water is.
This is one of two of our "Team" tournaments. For today, we matched up the boater with the most points with the non-boater with the least points. and then right down the line so that the boater with the least points fishes with the non-boater with the most points. Equal points are given to both contestants. This has the advantage of giving everyone a fair chance and also gives all contestants two tournaments with good points. This helps group up the standings for the "Classic" at the end of the year, and gives everyone a chance at Angler of the year"
Everyone ran to there favorite fishing hole and most stayed on that spot all day.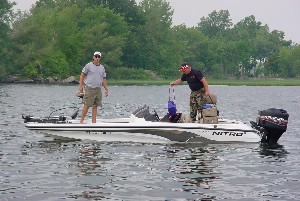 Greg Breen and Randy Green of Long Point.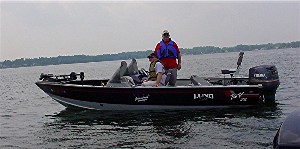 Connell Raate and Chris French, checking out the competition.
The smallmouth bite was on until about 9:00 am, then the fish slowed down. The largemouth never really cooperated during the morning.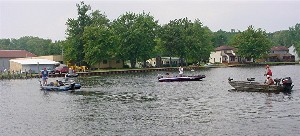 At 12:00 noon the boats start collecting off Aero Marina.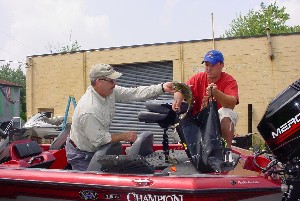 Jack Loughrey and Jason Adams unload their fish.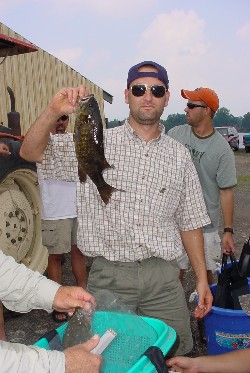 Craig Raponi with a nice bass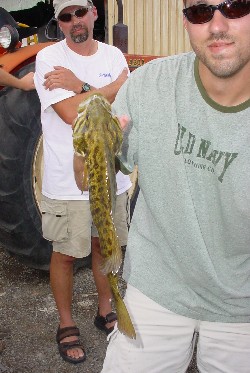 Ryan Smith holds up "Bones"
If you fish long enough, you get to see everything. Ryan Smith caught a smallmouth bass that was 16 inches long, but only weighed 15 oz. He nicknamed it "Bones". Boy was that fish thin.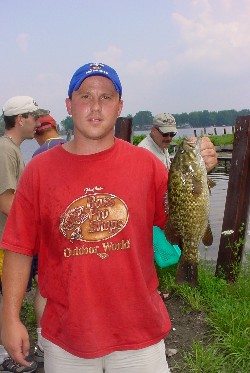 Jason Adams with big bass for the day, a 3.42 pounder.
Craig Raponi presents the prize money to the winners.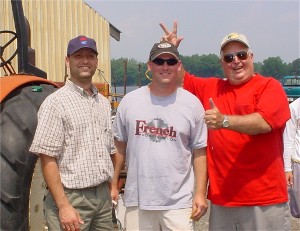 Connell Raate & Chris French takes 3rd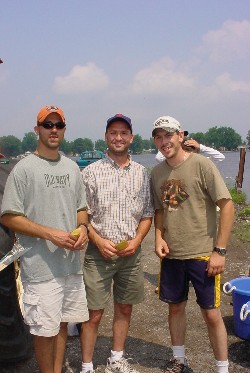 Ryan Smith & Eric Wilsey takes 2nd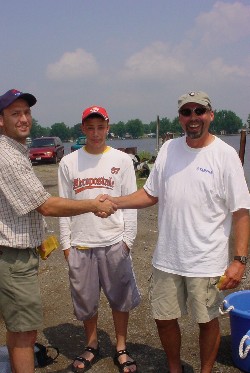 Larry LaClair & Aaron Sheldon take 1st place.
And now how Larry and Aaron did it.
Larry and Aaron started out in the morning working a "Fluke" over the rock and weed beds in 3 to 8 foot of water. The fluke took most of the fish, but they did take some on top water.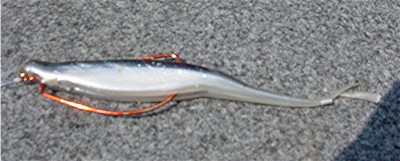 The "Fluke" that Larry and Aaron used
Latter in the day, they did some pitching and flipping, but the largemouth were not cooperating. In fact, there were only 5 largemouth entered in the whole tournament.