Kasoag Lake
Sunday August 9th, 2009
Kasoag lake is a small lake in the northern part of Oswego County near Williamstown N.Y.. We used the Kasoag Lake Park launch. The surface area of the lake is around 60 acres, with a maximum depth of 14'.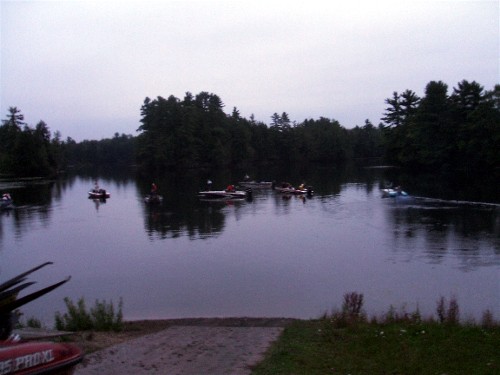 Boats on the water ready to start fishing.
We launched at 6:00 a.m. and fished for 7 hours, returning to the dock at 1:00 p.m.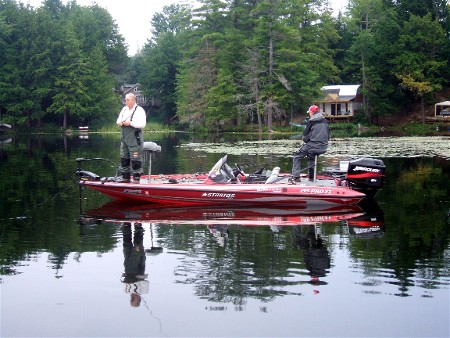 Dick Hyde and Mike O'Hora.
It was a cool, cloudy day with some rain, but we all enjoyed ourselves doing what we like to do------fish.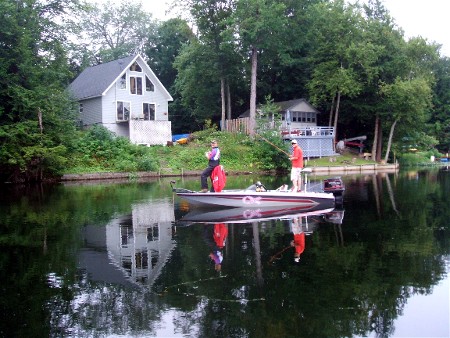 Tom Church and T.J. Church.
Kasoag is a lake with LOTS of structure in it. There is lily pads, coontail, stumps, logs, dry islands, sunken islands and lots of tree tops in the water for the bass to hide in.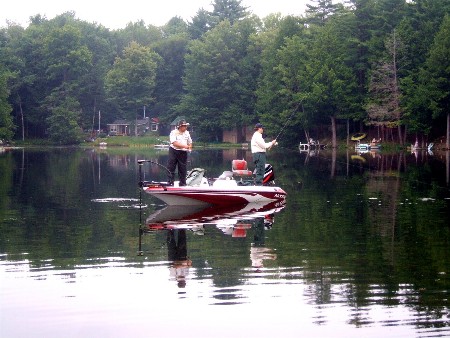 Chad Acome and Evan Smith
The residents have done a excellent job in keeping the lake natural. Tree tops, logs, etc are only moved, not removed, when they are in the way of navigation.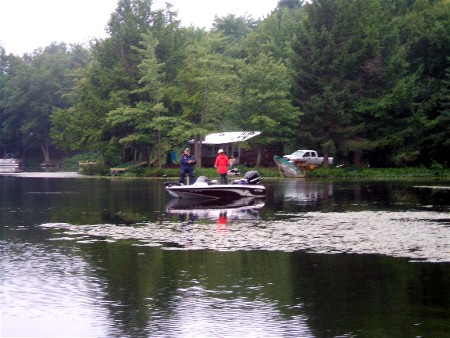 Connell Raate and Mike Dixon
If you are planning of fishing Kasoag, remember that you may run your big motor on idle only.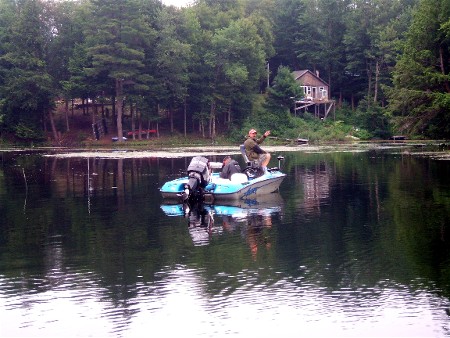 Dave Donhauser and Jack Wilson II
Every year this lake has produced bass up to 8 pounds, but today the big ones were not to be found.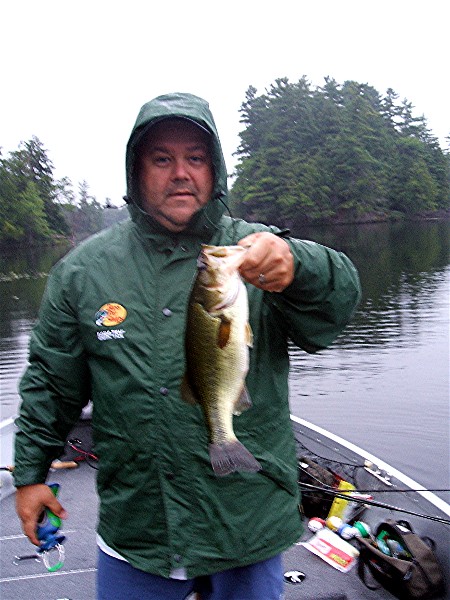 Joe Valerio shows off an "average" bass.
This is the Sunday before the Elite Series pro's start fishing on Oneida Lake. We had a couple of special guests attend our tournament and chicken BBQ.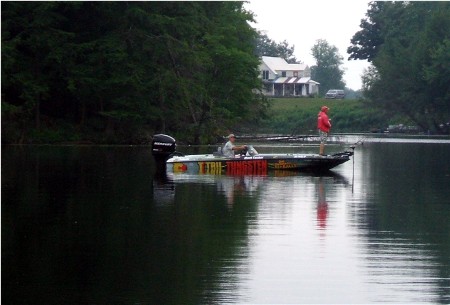 Wilson Frazier and Mark Tucker
Professional, Mark Tucker was having trouble with his depth finders, so he and "The Professor" Wilson Frazier joined us. Tru-Tungsten and Frazier Enterprises are sponsors of our club. Mark fished, but was not in the tournament, while Wilson worked on his depth finders.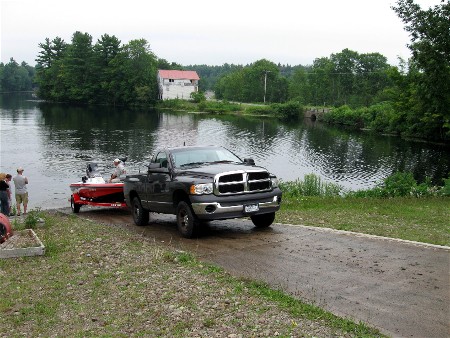 Ron "V" comes out of the water
At 1:00 p.m. we pulled the boats and started the weigh-in.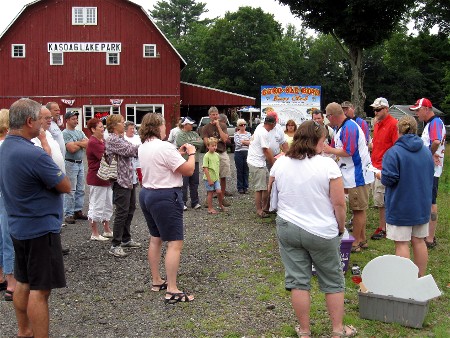 A crowd starts to congregate for the weigh-in.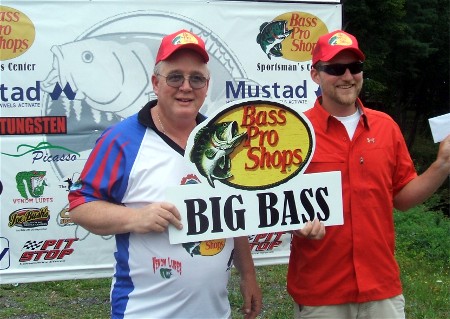 T. J. Church wins the Big Bass award.
The Bass Pro Big Bass Award was won by T.J. Church with a largemouth that weighs in at 4.31 pounds.
Nice fish T.J.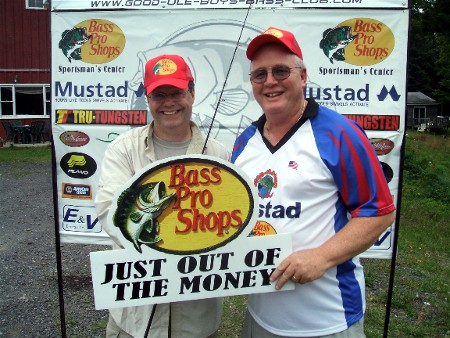 Dick Hyde from Bass Pro presents the award.
The "Bass Pro just out of the money" award which is IM-8 graphic fishing rod (value $50.00), is won by Evan Smith.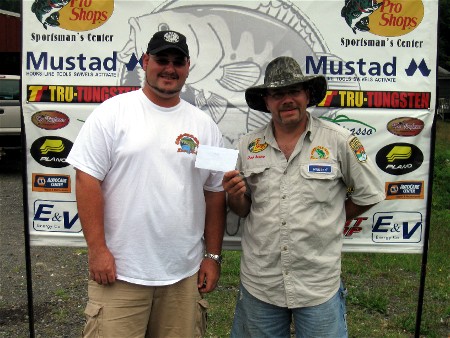 Fifth place, a tie, was won by Jack Wilson III and Chad Acome.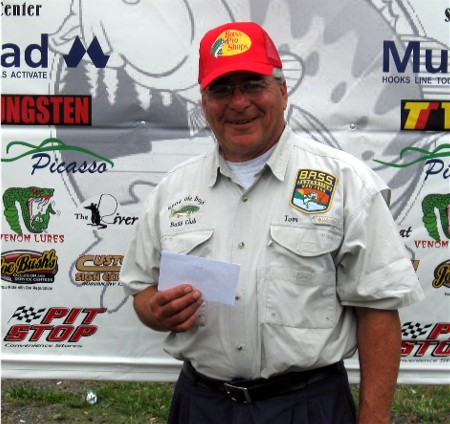 Fourth place went to Tom Hudson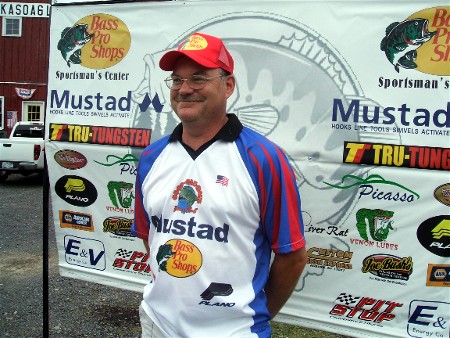 Third place is won by Tom Church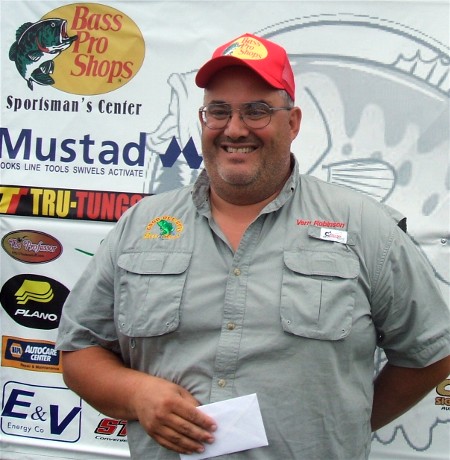 Second place went to Vern Robinson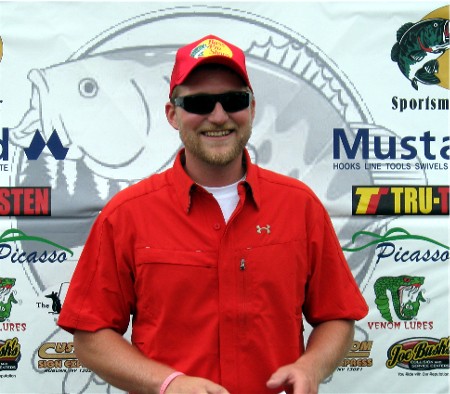 And first place goes to T.J. Church.