2006 Club Classic
Oneida Lake, September 16, 2006
and
Oneida River, September 17, 2006
Ryan Smith in late charge, overtakes Chris French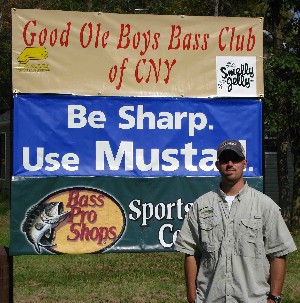 Saturday, September 16th at Oneida Lake
We launched from Oneida Lake Shores Park. Because of fog everyone was told that they must idle to their fishing spots. We left at 7 AM, but extended the fishing until 3 PM.
With the air temp. in the upper 50's, no wind and the water temp. in the mid. 60's the fog wanted to stay. It wasn't until around 8 AM that the wind picked up slightly and the sun broke through the clouds to burn the fog off.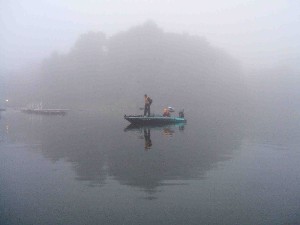 Aaron Sheldon and partner waiting for the fog to clear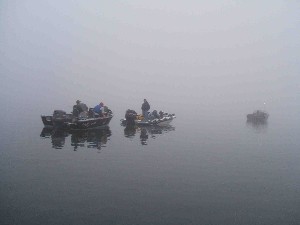 Other boaters waiting for blast off
By the end of the day, it was partially sunny, in the 70's with a slight chop on the water
Ryan Smith worked his magic like always using a variety of different baits to come in with 10.12 lbs.. Eric Wilsey using his trusty fluke brought in 10.36 lbs.. However Jack Loughrey brought in the heaviest bag of 10.79 lbs..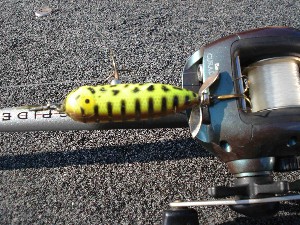 Prop bait used by Jack Loughrey on Oneida Lake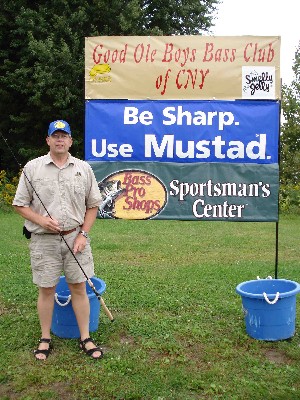 Paul Hudson with bait casting rod that he won in a raffle
The rod is donated by Bass Pro, one of our sponsors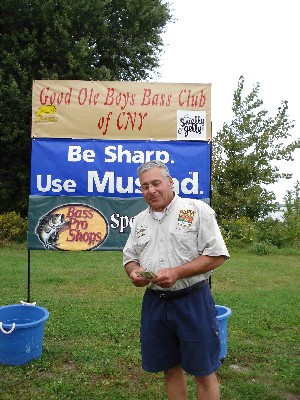 . Tom Hudson winner of big bass Oneida Lake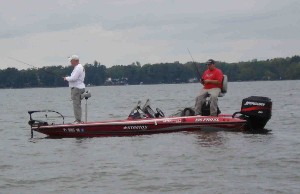 Dick Hyde and Brad Rogers, Dick had an unfortunate incident with a Pike (see below)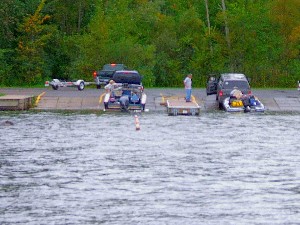 Oneida Shores boat launch. 6 concrete ramps with docks and plenty of parking
The Revenge of the Pike
Dick and Brad are trying to catch that elusive bass that will bring each of them up in the point standings. Brad lands a toothy critter, by the name of Mr. Pike. After unhooking him and deciding that he would rather have a bass, Brad releases him into the water. We could not interview Pike to see what was on his mind. However, Mr. Pike either liked Dick's boat better than Oneida Lake, wanted revenge for being hooked, or maybe he took offense that Brad would rather have a bass in the live well than Mr. Pike. When Pike hit the water, he jumped back into the boat where he landed on Dick's rods and reels. Mr. Pike then decided to go back in the water. Unfortunately when he decided to go back in, he wanted to take a souvenir of his trip to the top side, consisting of one of Dick's more expensive rod and reel. Dick looked for his rod and reel in the water, but was unable to retrieve it. Dick is still trying to understand why it had to be his equipment since he didn't hook the toothy critter in the first place. We know how frustrating fishing can be, however, when you lose equipment, it adds insult to injury. (editors note: we apologize, but we could not get a picture of Mr. Pike with his new rod and reel)
Sunday, September 17, 2006
2nd day of Classic
Oneida River, 481 Launch
The weather started out a little cool. Due to the fog on Sat. we decided to have our blast off today at 7 AM and fish to 2 PM.
Our starting air temp. was in the mid 50's, skies were clear. The water temp was in the mid to high 60's. Wisps of fog were coming off from the water but nothing to impede boating like Sat. on the lake. Fall was in the air!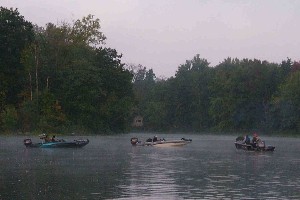 Waiting & Planning Strategies - The fog coming up from the water with a little sunlight trying to break through. Hopes are high that the live wells will be full to their limits of 5 fish each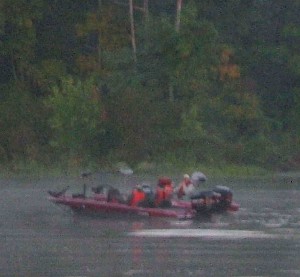 Waiting for Blast Off - You can make out the wisps of steam coming off from the water. The trees changing color in the back-ground
At 7 A.M. everyone was off to their favorite spot. The water was calm all day and the temp. got up close to 80 deg. A beautiful day for fishing but a tough day for some of us.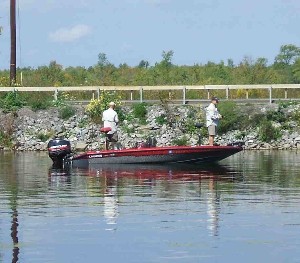 Jack Loughrey and non-boater Horse Shoe Island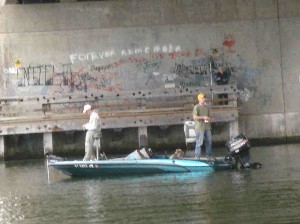 Aaron Sheldon and non-boater working the bridge
Everyone was trying different areas from Onondaga Lake to the locks in Phoenix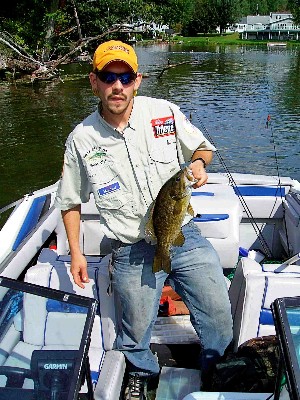 Eric Wilsey showing off a 3.42 lb smallmouth bass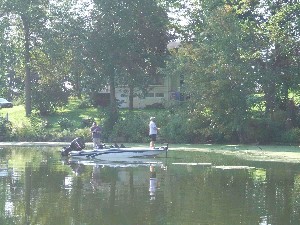 Chris Cartwright and Brad Rogers working the weeds.
At 2 PM we returned to the 481 Launch Ramp.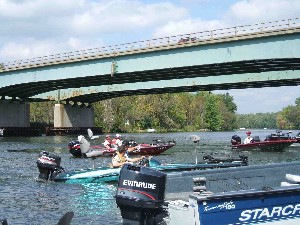 Boaters wait for non-boaters to pick them up.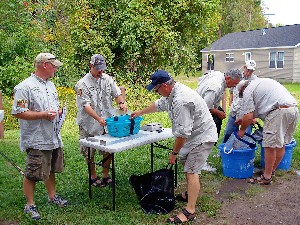 Tournament Committee begins weigh in. After the fish are weighed, they are released alive back into the water.
After all fish were weighed in and both days totals added., The standings for the 2006 "Classic" are as follows: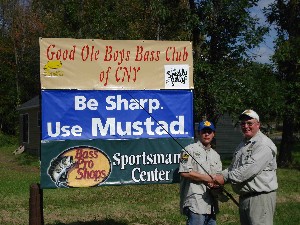 Aaron Sheldon, 5th place 2 day total 15.05 lbs
Bass Pro representative Dick Hyde presents Aaron with the Rod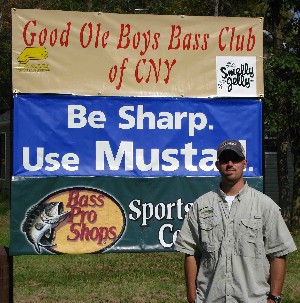 Ryan Smith, 4th place, 2 day total 19.23 lbs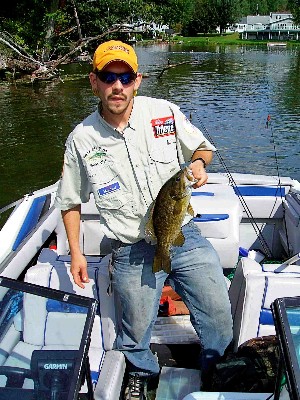 Eric Wilsey, 3rd place, 2 day total 19.62 lbs.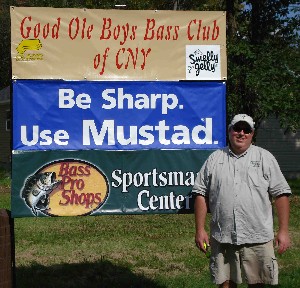 Bill "Coach" Kays, 2nd place, 2 day total 22.10 lbs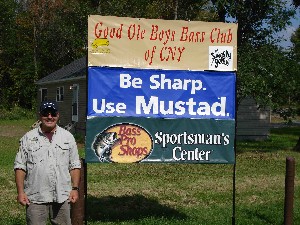 Jack Loughrey, 1st place, 2 day total 22.86 lbs.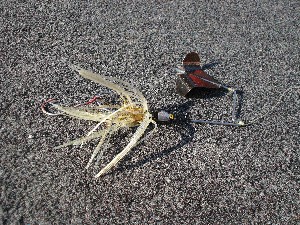 Jack's winning lure, buzz bait.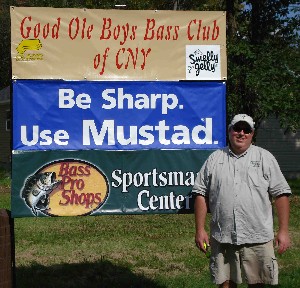 Bill Kays, Big Bass for Sunday 3.68 lbs.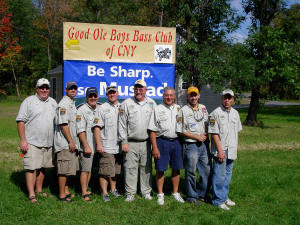 Good Ole Boys Bass Club, NYS Bass Federation 6 man
GOB for 2007 representatives and alternates, L-R
Bill Kays, Alt., Ryan Smith, Jack Loughrey, Chris French, Dick Hyde, T. Hudson (in for John Nye Alt.), Eric Wilsey and Aaron Sheldon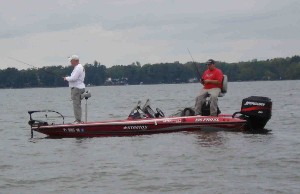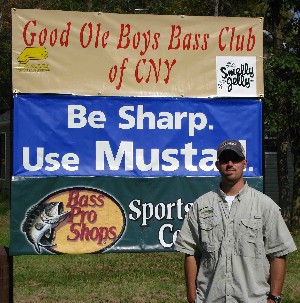 Ryan Smith caught 40 bass during 2006, total weight of 82.82 lbs. Congratulations Ryan on a job well done!
We would also like to thank our sponsors who have helped us over the past year. You can find links to their web sites on our home page.
In conclusion, we had a very good year. All of our members caught fish and we all had a very good time. There was a lot of joking around and some practical jokes. The last two words in our by laws are "have fun".
We hope to see all of you again next year. Don't forget our club dinner and awards banquet which will be held in January again this year. You will be contacted by e-mail once a date has been set. Please plan on attending. There are always great door prizes up for grabs. You must attend to win them.