Club Classic
Sodus Bay, October 9th 2004
and
Fair Haven Bay, October 10th 2004
Larry LaClair holds off late charge from
Jack "meatball" Loughrey
Saturday, October 9th at Sodus Bay. Blast off was at 7:00 a.m.
The wind was blowing from the south at 12 to 22 mph as a cold front was approaching. Even though most of the members had practiced beforehand and located some very nice fish, (15# plus for 5 fish), they had their mouths shut for most of the morning.
A wind shift happened at 12:10p.m. and they started to bite, but our club fishes for only 6 hours so we all had to be back at the launch site by 1:00 p.m. That left us only 30 to 40 minutes to catch our limits. If you stayed on your pre-fishing site, you had a good time for that short time.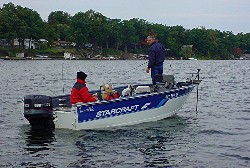 Tom Hudson and Craig Raponi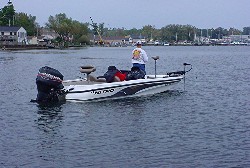 Greg Breen picks up his boat as he awaits his co-angler to back in the trailer.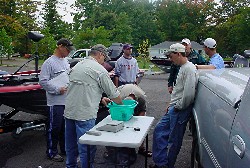 The weigh-in begins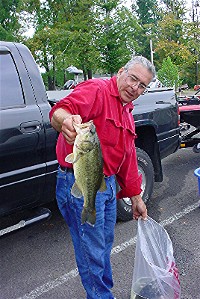 Tom Hudson with a nice fish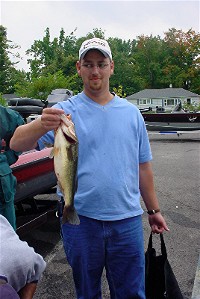 but Greg Breen takes big fish of the day.
Larry LaClair went into the lead with a catch of 5 fish weighing 13.23 pounds.
How Larry did it.
When it comes to vertical fishing, Larry excels. He worked a "jig & pig" in black and blue, plus a green Venom tube along the outside of the weeds in 8' to 12' of water. He said that the fish were only hitting as the lure fell and it was very hard to "feel" the fish inhale the lure. He puts much of his success to the Bass Pro IM8 graphite rods that he uses, because their sensitivity allow him to know when the lure stopped. He then set the hook every time the lure stopped. Yes, most times it hung up on weeds, but there was also plenty of bass strikes.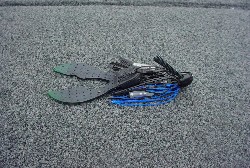 Jig & pig Larry used.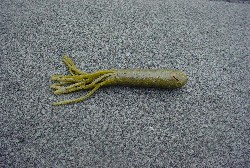 Venom Tube that Larry used.
Sunday, October 10th 2004
2nd day of Classic
Fair Haven Bay
A very severe cold front came through during the night and the day broke with a 25 mph wind out of the NW and the temperature had dropped 20 degrees to the low 50's. Even though most of us would rather retire to a good coffee shop, off we went into 2' white caps on the bay. The big lake was so "lumpy" the waves were crashing over the 8' high brakewall.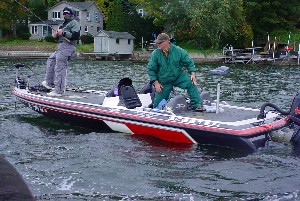 Larry LaClair and Chris French in the "Chop"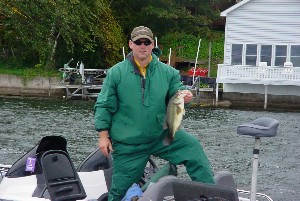 Chris holds up one of his fish.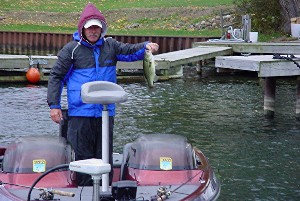 Don Crofoot shows off one of his fish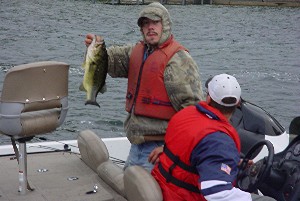 Eric Wilsey with a 3.86 # bass
I was unable to find Jack Loughrey to take his picture, but he showed up at the dock with the big catch of the day. [5 fish totaling 14.16 pounds.] He just beat out Larry LaClair who had a 5 fish bag of 12.99 pounds. Both great catches for only 6 hours of fishing after a very severe cold front.
How Jack did it today.
Jack was working the shores where the wind was blowing in. He worked a "Buzz Bait" very close to shore in less that 3' of water. The wind was blowing his boat so fast, plus he was casting downwind, forcing him to use a 6/1 geared reel to be able to keep the bait on the surface.
The "Buzz Bait" that Jack used.
So, after two less then perfect days, the following are the placements in our classic.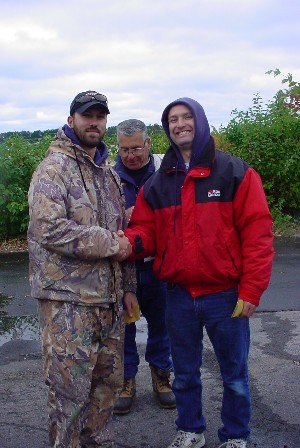 Ryan Smith takes 4th place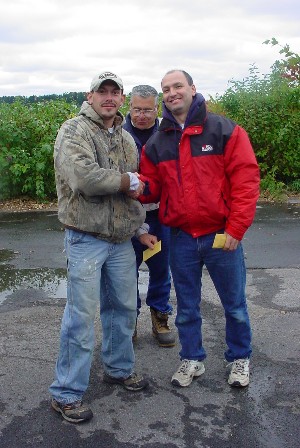 Eric Wilsey takes 3rd place.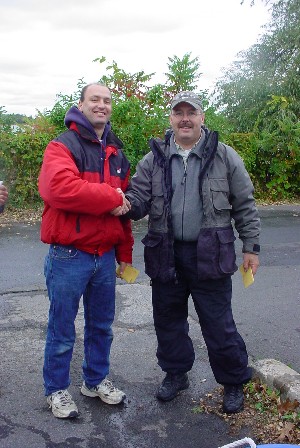 Jack Loughrey takes 2nd place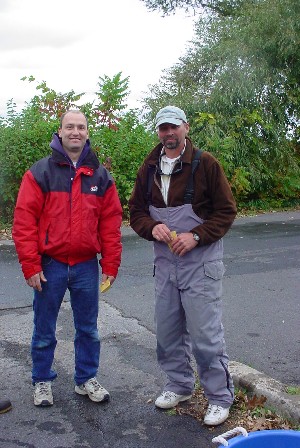 Larry LaClair takes 1st place and "Angler of the Year"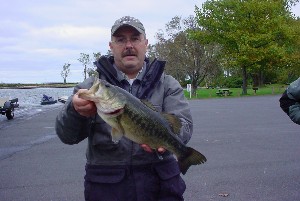 Jack Loughrey holds up big fish for the day, a 4.63 pounder.
Some final thoughts.
President Tom Hudson and myself (Connell) would like to thank everyone in the club for one great year of fishing.
We like to think of our club as an "entry level" and "teaching" club.
Now, "entry level" does not mean small fish and small catches! When comparing our catches in only 6 hours of fishing against the larger clubs who fish 8 to 9 hours, we can certainly hold our heads high.
The "teaching club" label is very true. Many thanks to Ryan Smith who put on a seminar in the spring and showed us all his techniques for working "jerk baits". Larry LaClair, many thanks for showing us your techniques for working "jig and pigs" and "drop shots". Using your information I won the Owasco Lake tournament. Granted, it might have been pure luck.
By the way Larry, all the club members wish you good luck next year when you start fishing the Ever Start Circuit. Remember, you are always welcomed to fish with us and share the knowledge that you learn in that prestigious circuit.
In closing, for anyone who may be reading this report, "entry level" for our club does not mean for first time fishermen. Our current club consists of beginners, retired folks, young up-and-comers, and veteran fisherman. Every year someone leaves us and moves up to a higher competition level.
The last sentence of our by-laws says, "Have Fun". That's what it's all about.