Skaneateles Lake
Sunday, September 25th 2011
Sponsored by

Skaneateles Lake is one of our favorite places to fish. Although the average fish are smaller that we normally catch at other lakes, the scenery is just awesome.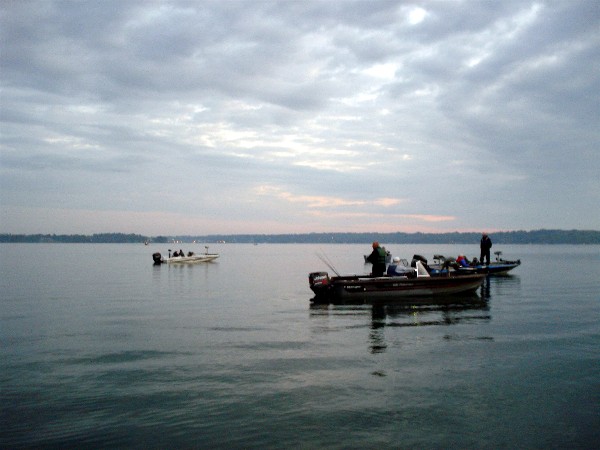 Sunrise, and the boats are getting in the water.
This is one of our "team" tournaments that we hold each year.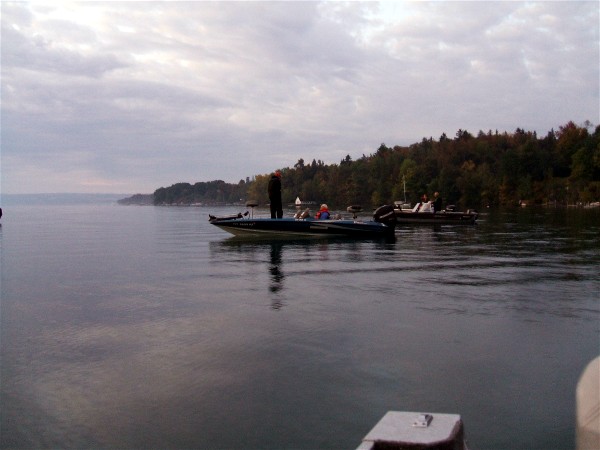 Our "teams" are chosen but matching up the highest ranking boater with the lowest ranking non-boater so far this year to form the team. Then the second highest boater goes with the second lowest non-boater, etc., until the lowest ranking boater is then matched up with the highest ranking non-boater. This in theory, makes all teams equal.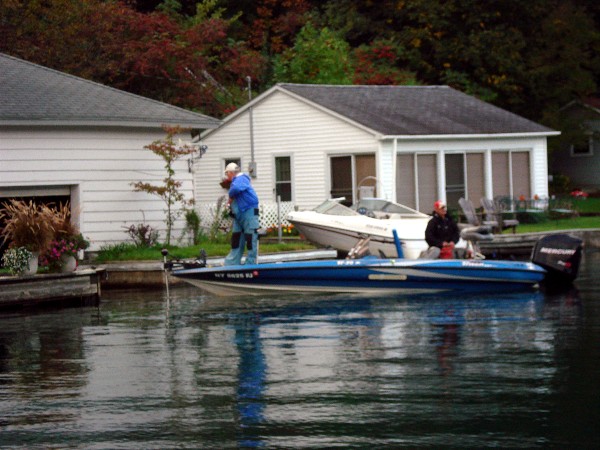 Fred Bloom and Jack Wilson.
When the points are awarded, both members of the team receive the points, and the prize money is shared.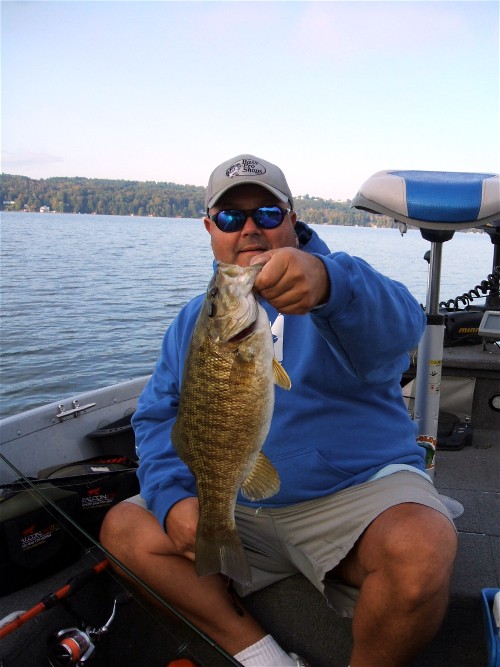 Joe Valerio shows off one nice smallmouth bass.
Everyone reports that they caught many bass, although there were a lot of sub-legal (under 12") fish.
The day was just perfect for fishing. Just enough wind to keep the boat moving.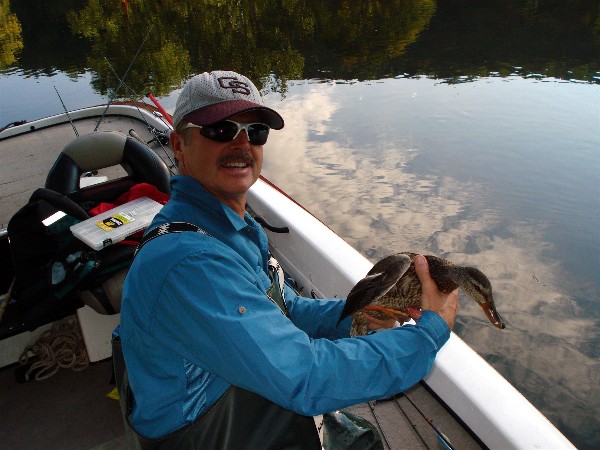 Mike Dixon with a DUCK ?????
Meanwhile, Mike Dixon and Connell Raate are Duck Hunting?
Well what happened was, as Connell cast his lure way ahead of the duck, it decided to take off and flew into the fish line. The duck became entangled in the line and although the lure never came in contact with the duck, it was so tangled up that it had to be reeled in and released. Boy did she give tell us what she thought of the whole thing as she flew away.
Well enough excitement for the day.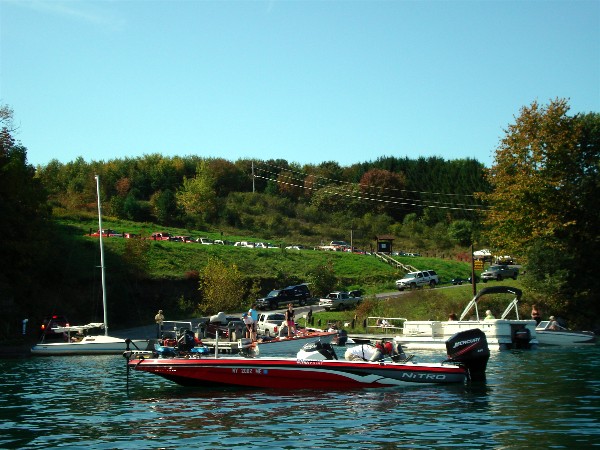 At 1:00 p.m., everyone returned to the launch, and we started de-watering the boats. If you ever plan on fishing Skaneateles, be prepared to spend some time either launching or dewatering. It's a very poplar spot and the launch is always busy.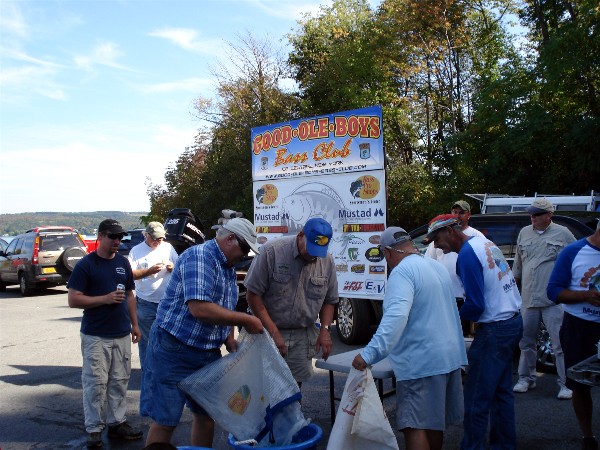 Everyone gathers around to have their fish weighed.
Fred Chilluffo and Bill Peck wins the Bass Pro Big Bass Award.
Again this year, Bass Pro is sponsoring our big bass award, know as the Bass Pro Big Bass Award. Bass Pro is donating a $ 25.00 gift certificate which is added to the big bass pay out.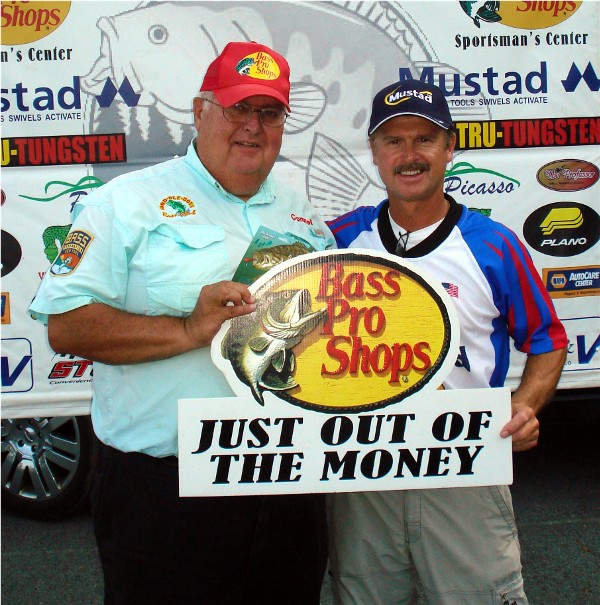 Connell Raate and Mike Dixon win the Bass Pro Just out of the money award with 8.61 pounds.
Bass Pro also sponsors the Just out of the money award, a gift card worth $20.00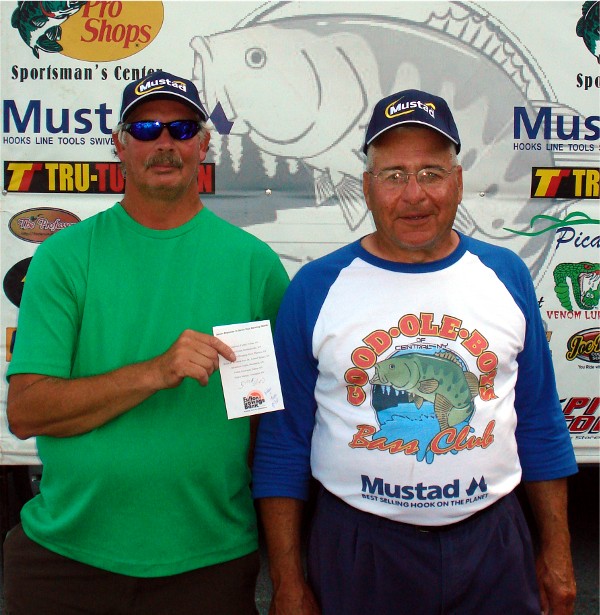 Nolan Edwards and Tom Hudson takes 5th place with 8.70 pounds.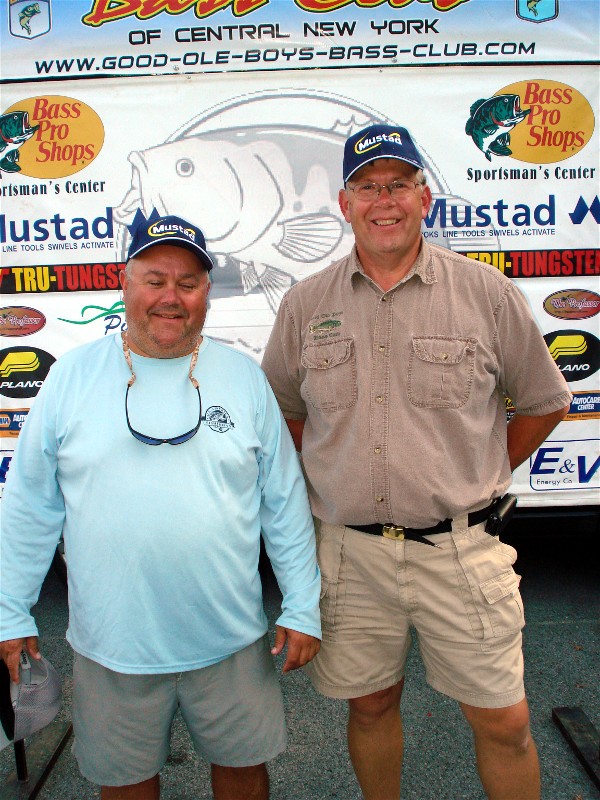 Joe Valerio and Paul Hudson takes 4th place with 11.42 pounds.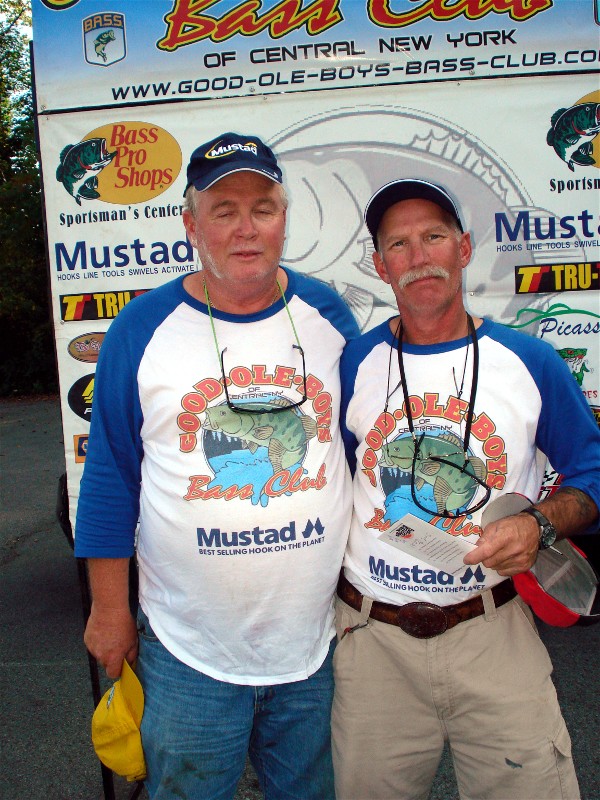 Dick Hyde and Ron VanBenschoten takes 3rd place with 11.58 pounds.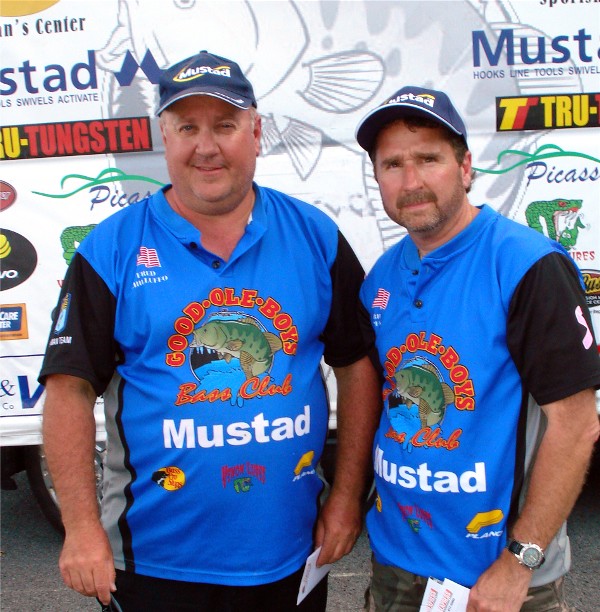 Fred Chilluffo and Bill Peck takes 2nd place with 12.43 pounds.
And first place goes to Kevin Schneider and Tom Church with 13.50 pounds.
How did they do it.
Tom said that they worked worked the inside weed edge along the shore line using a drop shot rig with a # 1 Mustad drop shot hook, and a 1/4 oz weight.
Sorry, we did not get a picture of the worm that was on the hook but Tom said that it was a robo worm.