Redfield Reservoir
Sunday, August 14th 2005
Blast off time was 6.30 am. There was a down pour on the way up to the reservoir, but the heavy rain stopped just at launch time. Then all during the morning we had occasional rain.
The reservoir was at high pool, and then some. The approach to the dock was underwater, and the water was up into the trees along the shore line. Because of low light, and rain, I did not get any pictures of members on their fishing holes.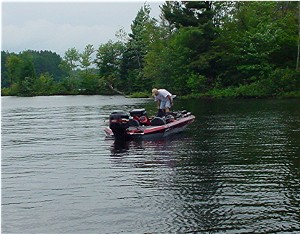 Jack Loughrey is busy putting rods away.
It was just one of those funny days. The boats spread out all over the reservoir after blast off.
At first light, the fish were hitting on the surface, but only for the first 1/2 hour, and only about 1/2 of the boats had that bite. Some of the boats could not get a surface bite.
Dick Hyde caught most of his fish in practice on spinner baits, yet during the tournament could not catch a fish on spinner baits. Now for Jack Loughrey, spinner baits were his best bait.
Aaron Sheldon (who won the tournament) was catching his fish in 6" of water on a fluke. None of the other members could catch a fish on a fluke.
The one thing that everyone agreed on was that in a few years this will be a great smallmouth fishery. Everyone caught lots of 10 - 12 inch smallmouths.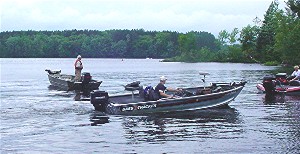 The boaters are waiting for their non-boaters to back in the trailers.
In October, after the power company drops the water, lots of big largemouth's are caught. Today, they were all "dinks". No one found any fish of any size. Because we all share information, we found out that the members had covered every cove and bay in the reservoir and all depths of water from 6" out to 30'. We had worked almost every type of baits from crank baits, soft plastics. jig and pig, tubes, hard baits, jerk baits, surface baits, spinner baits, and the rest of the tackle boxes. Everything caught fish, but nothing of any size.
That's why it's called fishing, and not catching.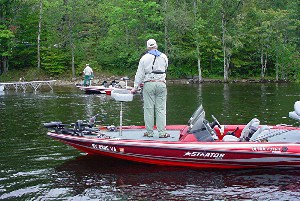 Dick Hyde waits for his ride, as Larry LaClair drops off Chris French at the dock.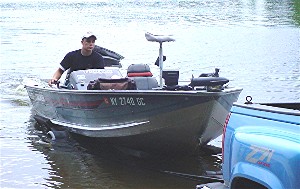 Aaron Sheldon "drives" his boat onto the trailer.
At 12.30 we all returned to the launch site to weigh in our fish.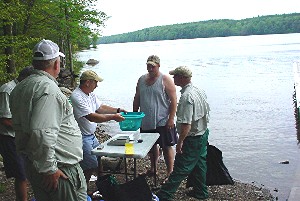 Weigh Master, Jack Loughrey weighs in a bag while Jake and Chris look on.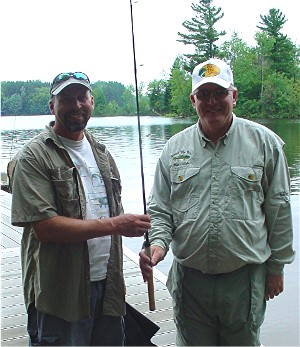 Larry LaClair finishes just out of the money so Dick Hyde from Bass Pro awards him the graphic fishing rod..
Bass Pro has generously donated a rod for the first member just out of the money, Today that prize went to Larry LaClair.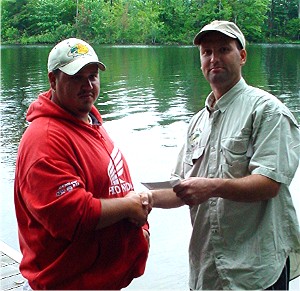 Treasurer Craig Raponi awards fifth place to Brad Rogers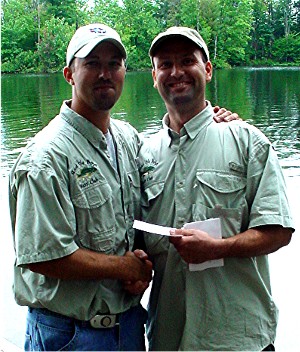 fourth place to Ryan Smith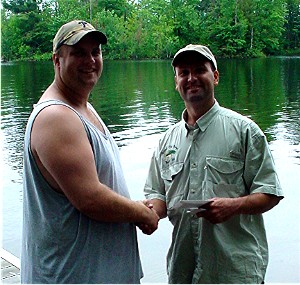 Third place to Jack Waloven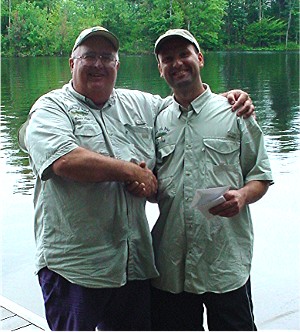 Second place to Connell Raate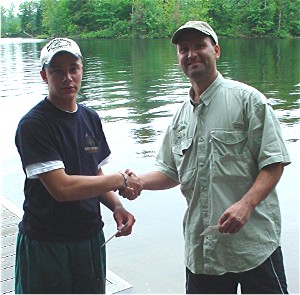 And Aaron Sheldon takes first place plus big bass.
How did Aaron Sheldon do it?
Aaron's best bait was a fluke worked in 6" of water. He was right up into the timber and trees that were flooded. That presentation hooked him most of his fish, but like I said it was a funny day. His partner Vern Robinson, in the same boat, using the same lure, was not catching a fish.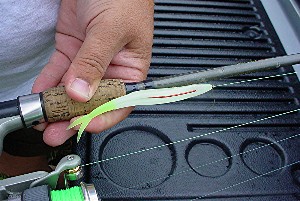 They both were working this fluke with the chartreuse tail.