Port Bay
Sunday, June 7th 2009
This year we moved our Port Bay tournament up a couple of weeks before the opening of bass season, so this is a "catch and release" paper tournament.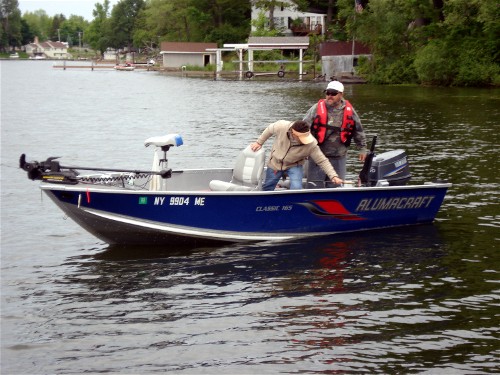 Joe Valero and Bill Peck are ready to "blast off".
By 6 a.m., all boats were in the water ready to start.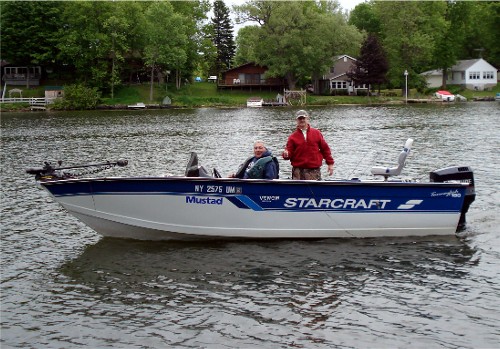 Tom Hudson and Mike Dixon stop to say hello
Today the weather was just perfect for fishing, with overcast skies, light winds and everyone ready to go fishing.
Chad Acome and Ken Sheldon.
By persisting, it was possible to wade through many small fish and get a limit of legal bass.
Fred Chilluffo and T.J. Church cruse by.
Fish could be caught by "skipping" under docks, fishing in, or on top of the weeds, or working deep with jigs, drop shot, tubes or crank baits outside the weeds.
Chris Cartwright and Mike O'Hora.
We fished until 1:00 p.m., pulled the boats, and started our paper weigh-in at waters edge.
Ron "V" shows off his winning Big Bass (photo taken on the water before release).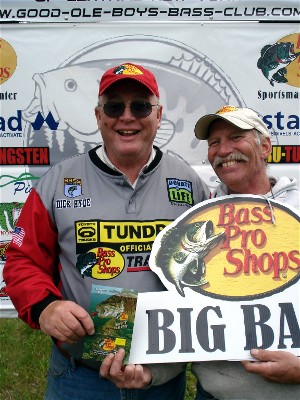 Dick Hyde and Ron "V".
Ron VanBenschoten wins the Bass Pro Big Bass award, a $25.00 Bass Pro gift card plus cash by catching a 20", "paper weight" 4.63 pound largemouth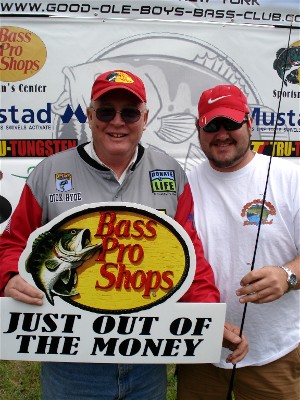 Dick Hyde from Bass Pro Shops awards the IM8 Graphic Rod to Jack Wilson III.
Bass Pro in Auburn is also sponsor of the "Just out of the money" award, and has generously donated a IM8 Graphic rod (value $50.00) to the angler that finishes just out of the money (6th place) each week. This week Jack Wilson III is the recipient of this award.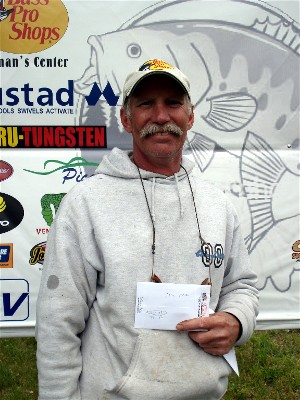 Ron "V" takes 5th place.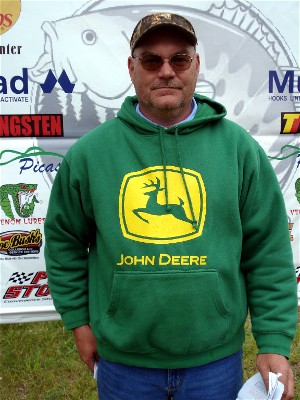 Tom Church takes 4th place.
Kevin Haley takes 3rd place
Jack Loughery takes 2nd place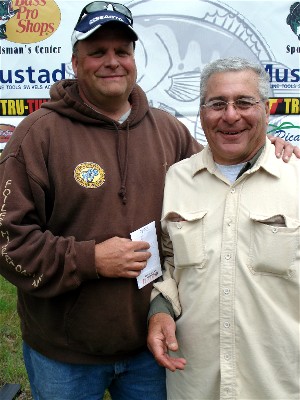 Chris Cartwright takes 1st place
And first place goes to Chris Cartwright with 5 fish weighing in at 15.29 pounds.
And now, how did Chris do it.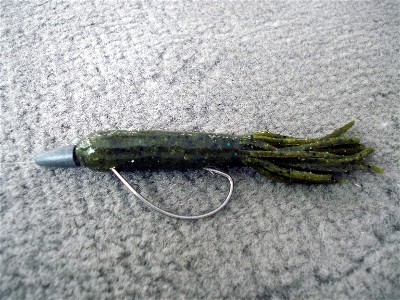 Chris worked a green pumpkin color, Venom tube, in 8' to 10' of water just outside the weeds that grow all along the shore line of the bay. The tube was rigged with a Mustad hook and had a 1/8 oz weight attached to it.