Port Bay
Sunday, July 11th 2005
We moved the blast off time to 5 am for this tournament. Yesterday, two other clubs had tournaments on this body of water, so we knew that a lot of the fish would have been "stuck", making fishing tough. Also the remnants of hurricane "Cindy" had came though yesterday, so the weather fronts were against us.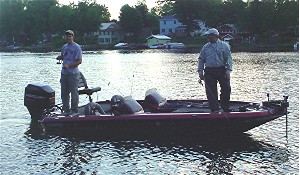 Jack Loughery and Brooks Wright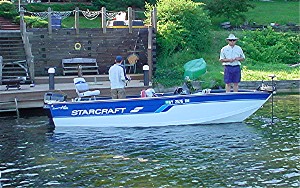 Tom Hudson and Eric Wilsey
Just at first light, the fish were right on the shoreline. "Flukes" worked within 1 foot of shore caught fish to start filling live wells. They were all fairly small, around 1 pound, but they all count for a limit.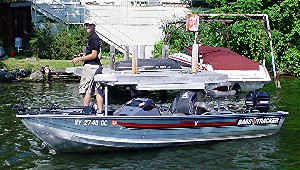 Aaron Sheldon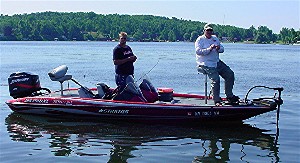 Dick Hyde and Bruce Mulholland
A couple of boats braved the lake, and one ran to Sodus Bay. That proved to be non-productive. All were back by 10:00 am wet but safe. The lake had kicked up to 5 plus footers by then.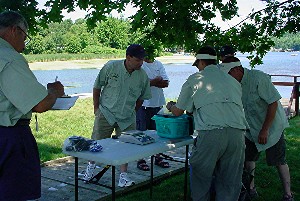 At noon, everyone returned to the state launch site and we started weigh-in.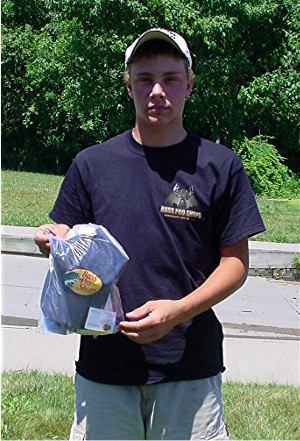 Aaron Sheldon finishes "just out of the money".
Bass Pro has generously donated tackle for the first angler just out of the money, Today that prize could not have gone to a better recipient, Aaron Sheldon.
Aaron is a high school student, and our protégé. Because parents are so busy today supporting their families, they just don't seen to have the time to "take a kid fishing". Our club, like most of the other clubs around CNY are working to remedy this problem.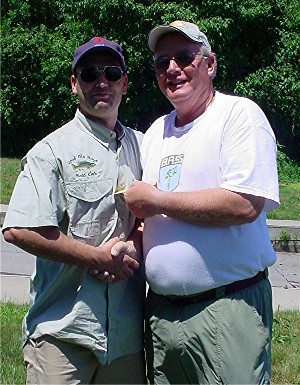 Treasurer Craig Raponi awards 5th place to Dick Hyde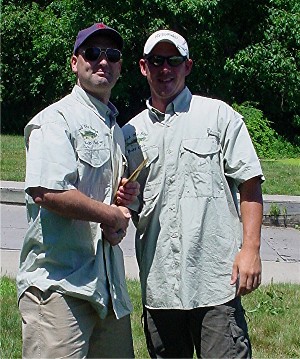 and 4th place to Garret Kinney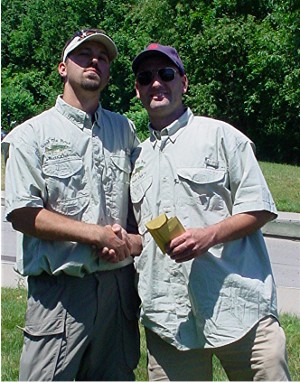 Third place goes to Ryan Smith,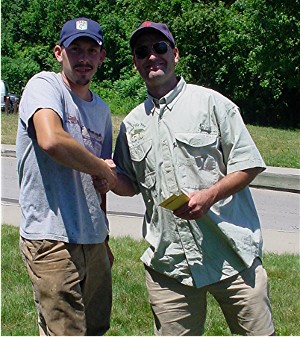 and second place to Eric Wilsey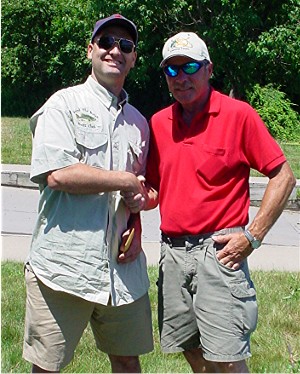 And the winner with 14.50 pounds is Don Crofoot
Don also took big bass for the day with a beautiful largemouth that weighed in at 3.91 pounds. Sorry, I had taken a picture, but something happened and it did not come out.
How did Don do it?
Don used a green pumpkin fluke. He was working just outside of the weeds along the lake out to 15' of water.
Don has a very unusual way of working his flukes. He uses no weight. Casts the fluke to the edge of the weeds and lets it settle to the bottom. Then he slowly works the fluke along the bottom, or just over the weeds, very slow and short jerks. It must work.
The club would now like to take this time to congratulate two of our members how have moved on to bigger competition. Remember, we like to consider ourselves as a "teaching and learning" club
Harold Wallace and John Noel have teamed up to fish the Bucket Mouth tournaments around CNY. This last Saturday, July 9th 2005, Harold and John won that tournament on Oneida Lake with 5 bass weighing in at 21.7 pounds. Not only did they win, but they beat their nearest competitor by almost 6 pounds.
It is being checked at this time, but it looks like this is the heaviest weight ever entered by a competitor in Bucket Mouth, and also the heaviest weight ever on Oneida Lake.