Otter Lake
May 15th, 2011
Paper Tournament
Rain was the name of the game today.
It's a good thing that most of us have Bass Pro's 100 mph rain suits to put on.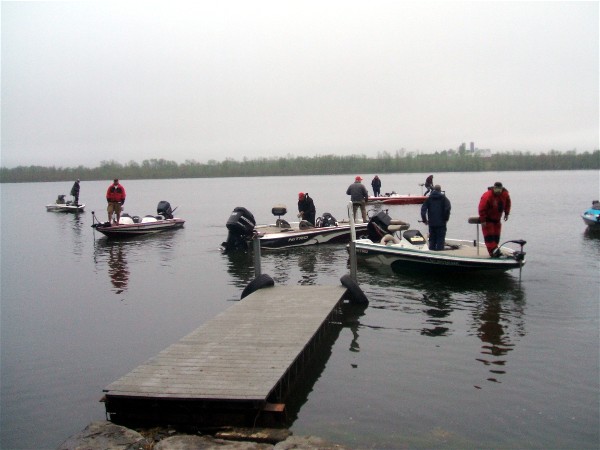 Boats are being launched and non-boaters are being loaded.
This is one of our "paper tournaments" that we run before the opening of the bass season. All boats are issued a "bump board" by the club. When a bass is caught, the other angler in the boat measures the fish up to the next quarter of a inch, and then the angler who caught the fish records it's length on paper. The fish is then quickly released.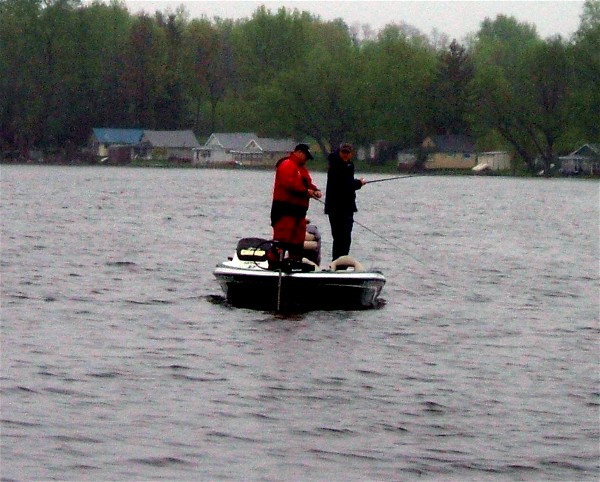 Guy Cromp and T.J. Church
Through out the day all fish are recorded and after five have been caught, then shorter fish are crossed out (culled).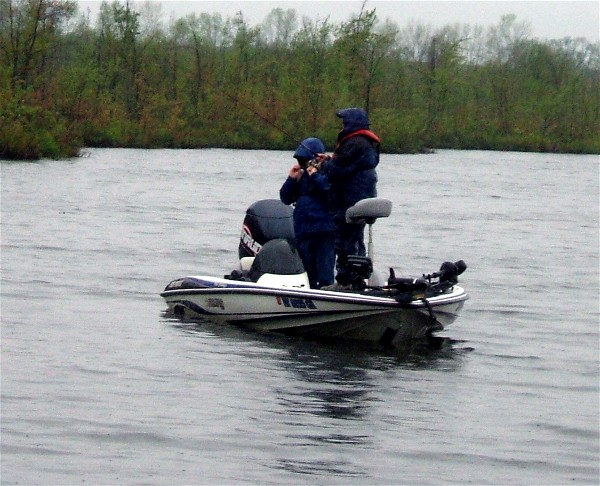 Fred Chilluffo and Frank Doll are bundled up against the weather.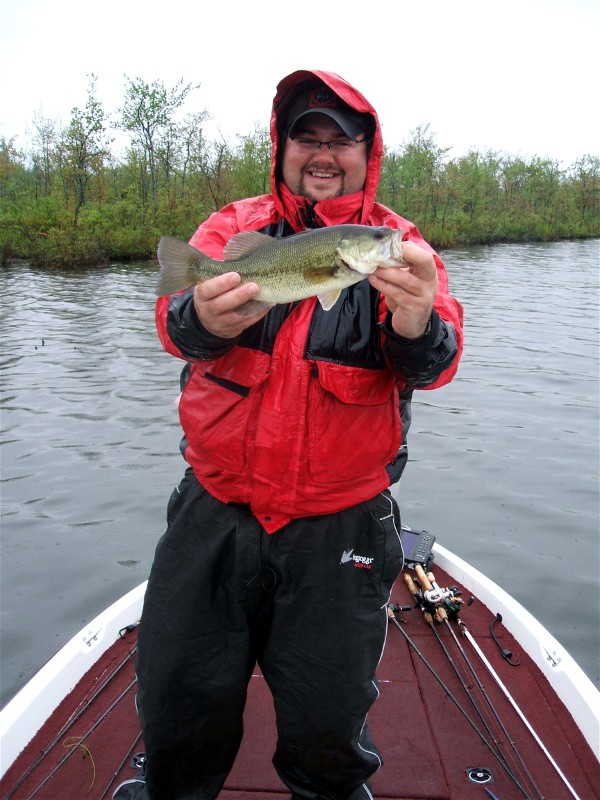 Jake Wilson shows off a nice bass, but I'm sure this one was culled before the end of the day.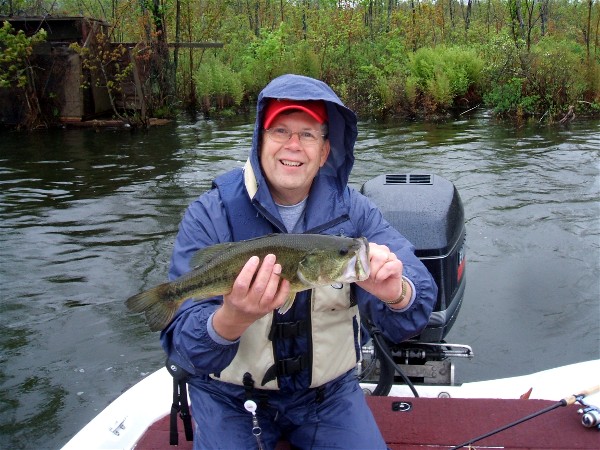 Paul Hudson has a big smile on his face.
Connell Raate and Jack Wilson ll look cold.
Ron VanBenschoten has a smile with a 20.25 in bass. (Paper weight of 4lb 12oz)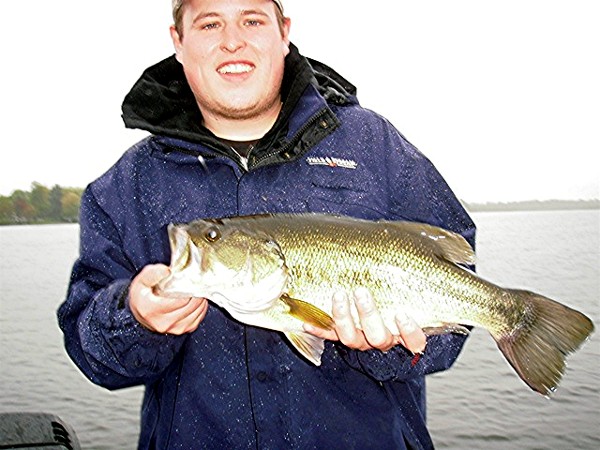 Evan Interlachia is very happy with his 19 1/2 inch bass.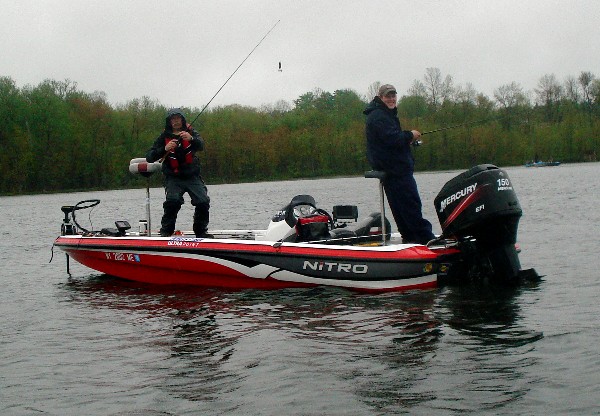 Ron "V" and Evan. Notice Ron's frog on the line. (more at the end of this page)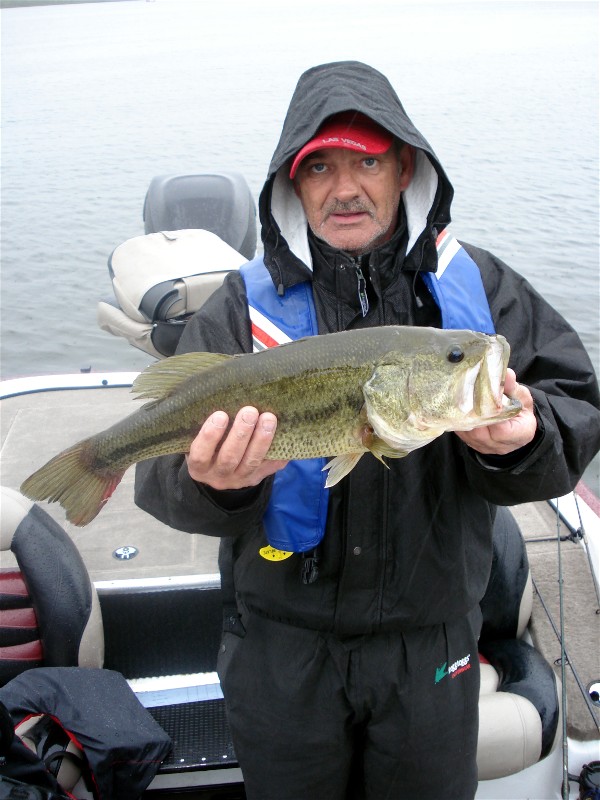 Jack Wilson ll with his biggest bass, a 20.25 inch beauty.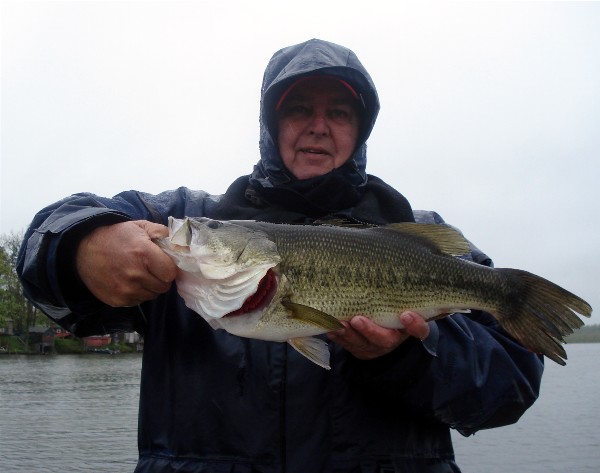 Connell Raate, Jack's boater, caught this 21.25 inch bass on the very next cast.
We fish for 7 hours, so at 2:00 p.m. we pulled the boats and fired up the computer to figure the weights using the measurements.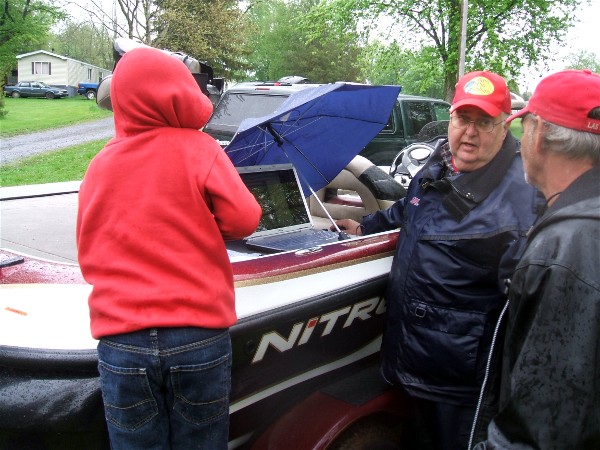 Thank god for laptops, Excel programs and umbrellas.
After all members bring there measurements to the computer, it's time for the awarding of the prizes.
Tournament Director Bill Kays awards the prizes
The Bass Pro Big Bass award goes to Connell Raate.
His big bass measured 21.25 inches and had a paper weight of 5.65 pounds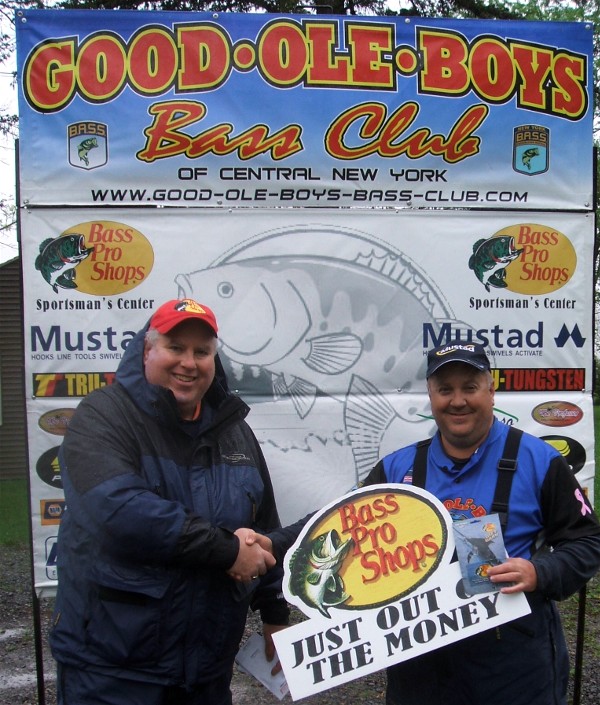 Bill Kays awards 6th place to Fred Chilluffo
Fred Chilluffo takes 6th place, the Bass Pro "Just out of the money" award. A $25 gift card.
Fred caught 15.35 pounds.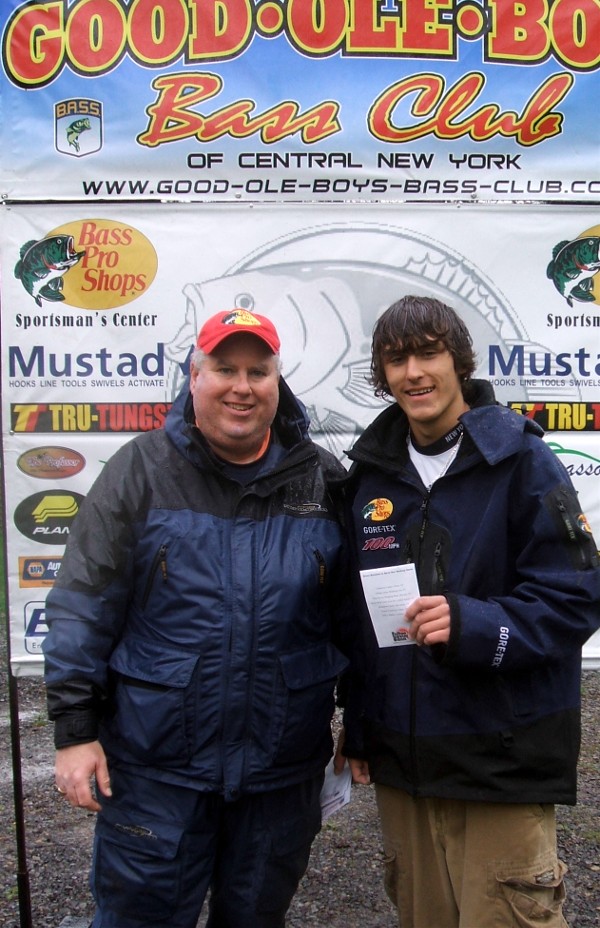 Mitchell is happy. Bill, you taught him well when he was a junior.
Fifth place goes to Mitchell Jones, one of our junior members who have moved up to the senior club.
Mitchell caught 15.44 pounds.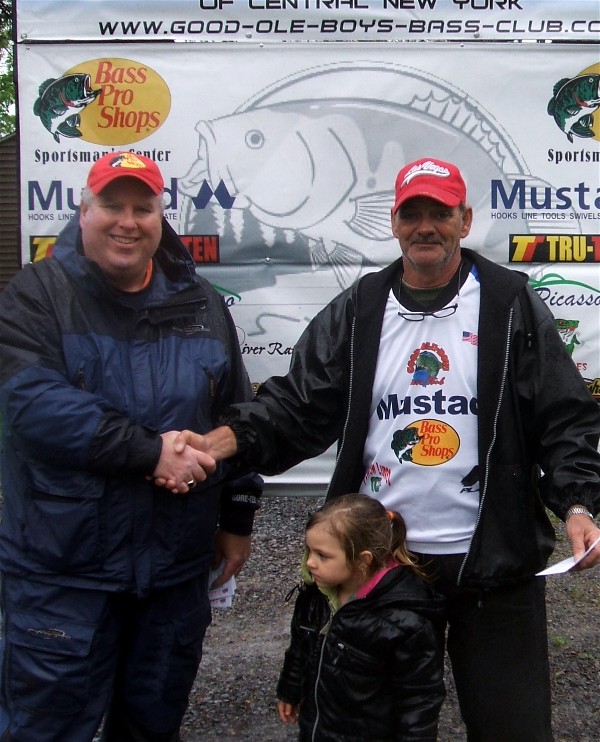 Bill. Looks like you have a new junior to take under your wing.
Fourth place goes to Jack Wilson ll with his granddaughter helping.
Jack caught 15.84 pounds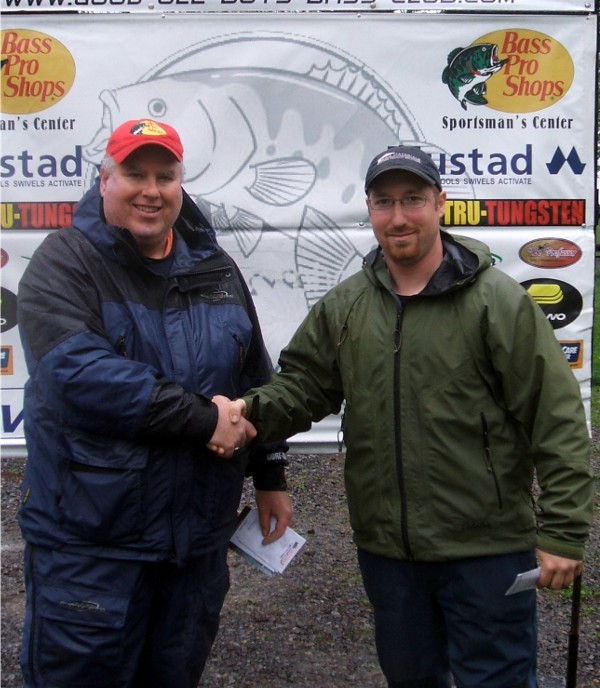 Bill shakes Duane's hand.
Third place goes to Duane Poole. Duane caught 16.001 pounds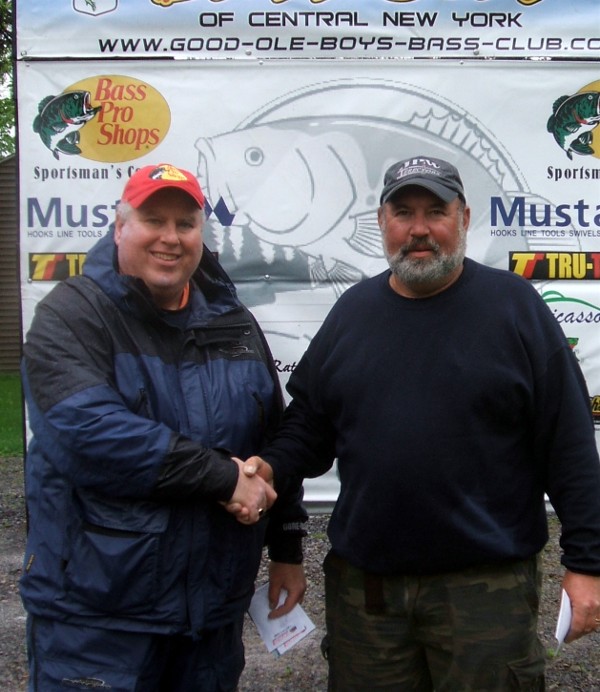 Bill and Dave
Second place goes to Dave Donhauser. Dave caught 16.13 pounds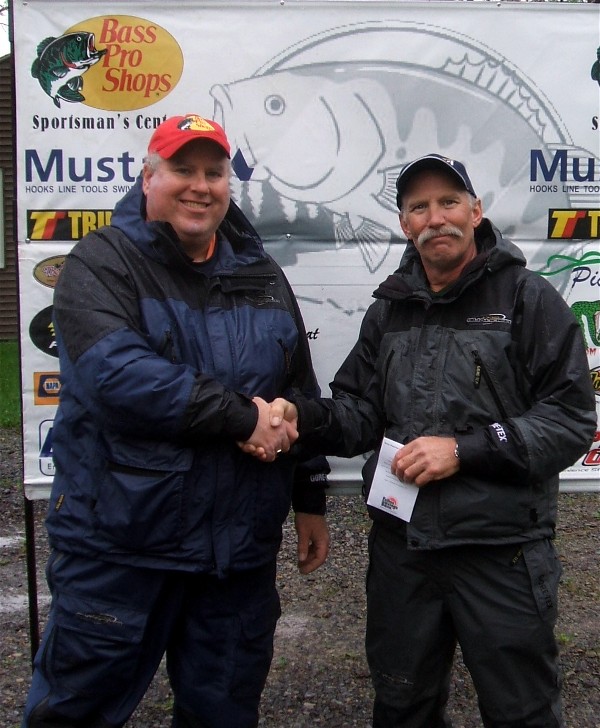 Ron is in front of the sign again. But this one in not for points.
First place goes to Ron VanBenschoten. Ron caught 19.20 pounds.
Now, how did Ron do it.
Ron worked this frog all day long. He had it "texas rigged" with a 1/4 oz bullet sinker and just slowly worked along the bottom. When he showed me the frog, he had around 8 of them that had been beaten up so bad that to put them into the pile to be recycled.