Oneida Lake
Sunday, August 17th 2008
Again this year we launched from Brewerton Boat Yard. Blast off time was 6:30 a.m..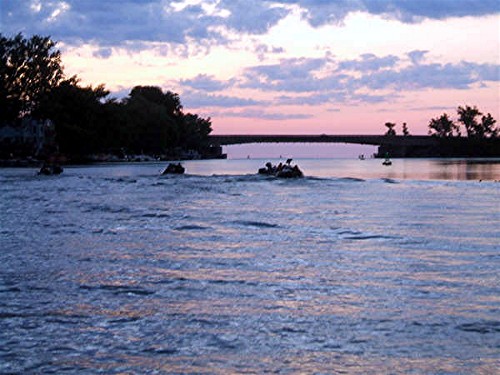 Off into the sunrise.
It was just another great day to be fishing.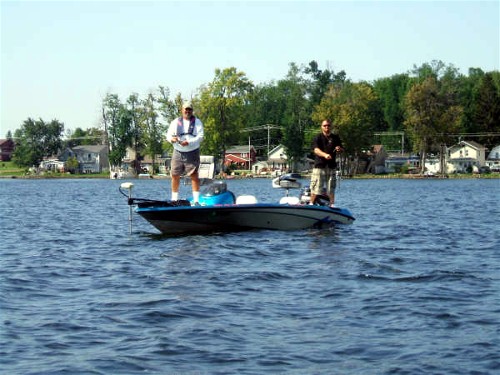 Dave Donhauser and Shawn Smith somewhere in the lake.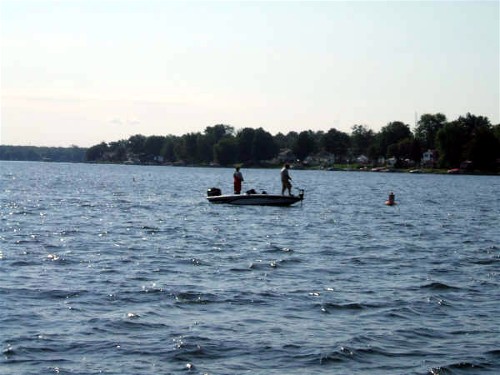 Chris Cartwright and Guy Cromp there also.
For most of the members, fishing was slower then usual. Did the "Elite Pros" fishing here last week have something to do with it ????
Dick Hyde and Mike O'Hora.
Knowing that the Pros were on the water last week most of us spread out to lesser fished spots that we all know to find some fish that had not been "stuck".

We returned to the Boatyard at 1:30 and started the weight-in.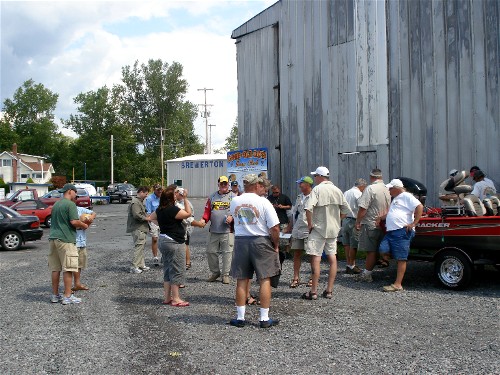 Everyone starts to gather around for the weigh-in.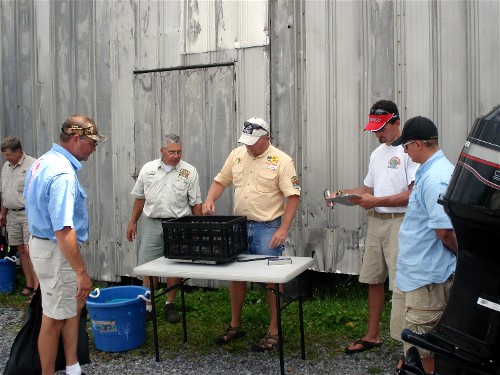 The scales are set up and the fish arrive.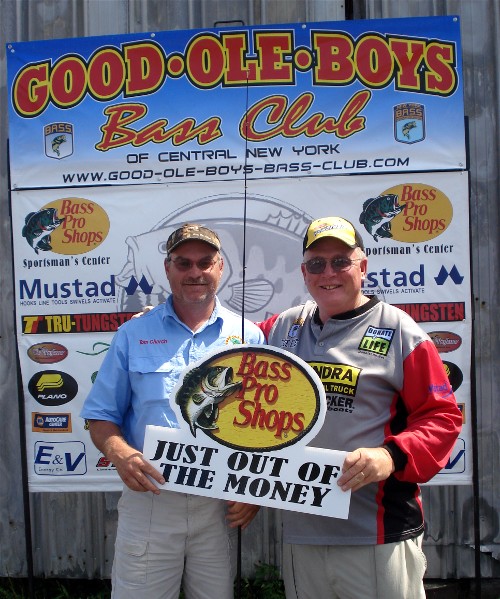 Tom Church wins the "Just out of the money" award, a new IM-8 rod, sponsored by Bass Pro Award given by Dick Hyde from Bass Pro.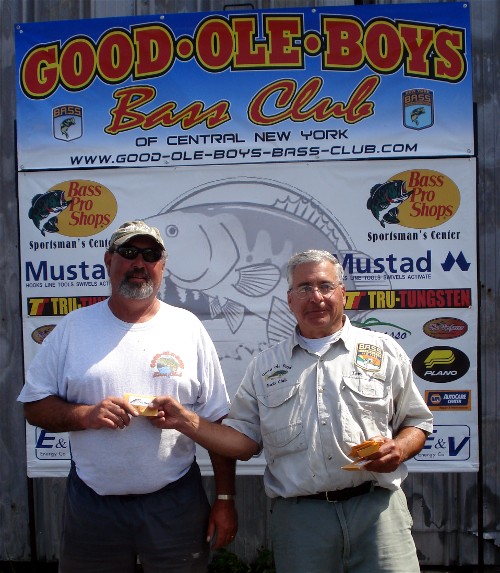 Dave Donhauser takes 5th place.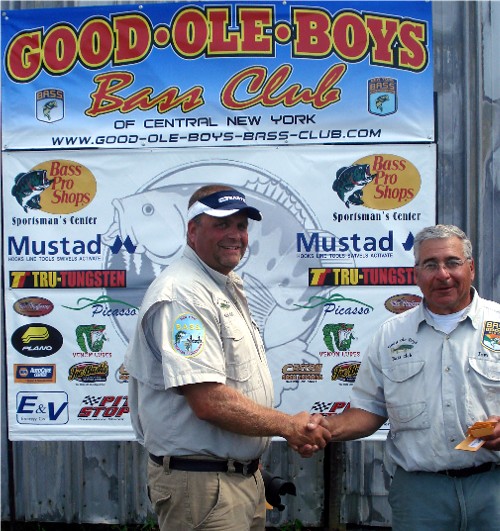 Chris Cartwright takes 4th place.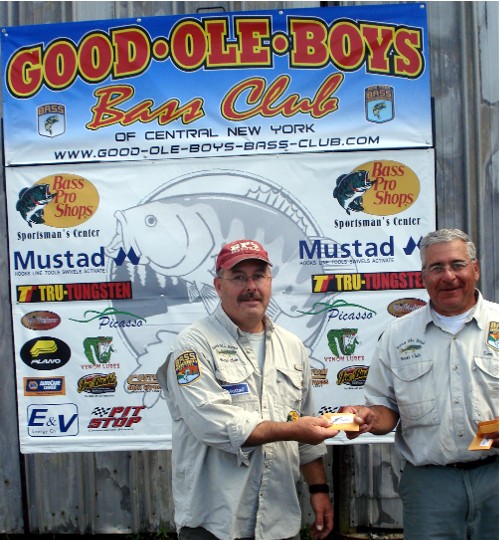 Jack Loughery takes 3rd place.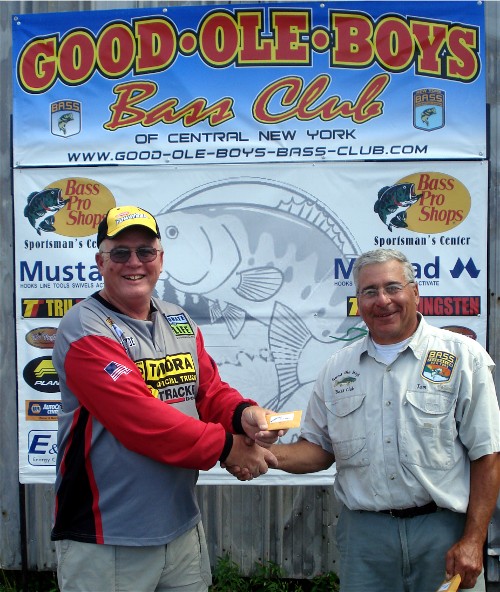 2nd place goes to Dick Hyde.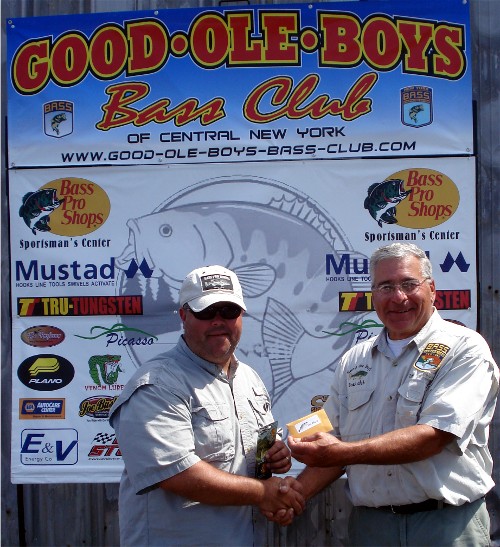 1st place is Joe Valerio.
Joe Valerio is the winner.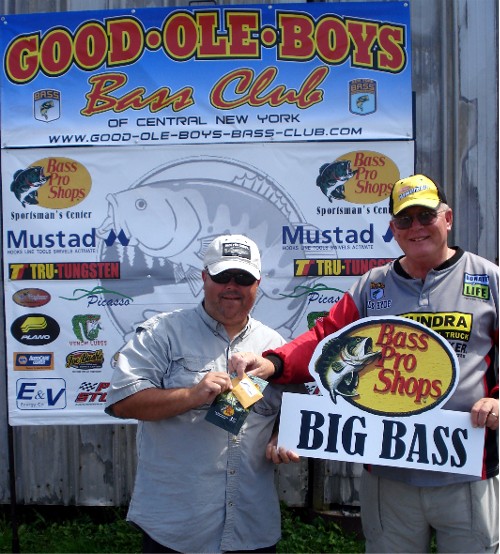 Dick Hyde from Bass Pro presents the Bass Pro Big Bass Award to Joe.
Bass Pro has generously donated a $25 gift card for the "Lunker" award. Joe Valerio wins this award this week with a 4.10 pound smallmouth bass. (Sorry, no picture of the big bass this week. Joe had released it before we could get a picture. We try to take a picture with a "stand in" smallmouth, but it did not even look like a big bass.
How did Joe do it?
Joe worked started out in the morning throwing a Lucky Craft "prop bait" in 2 foot of water. This lure caught him the biggest fish during the day