Oneida Lake
Sunday, August 28th 2005
Blast off time was 6:15 a.m. and it was just another great day to be fishing. Yesterday the wind was blowing from the south east up to 30 mph, so we were all happy to see that the lake had laid down during the night.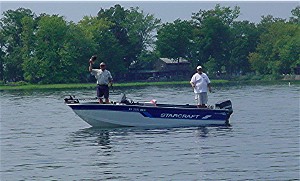 Tom Hudson and Brad Rogers off Long Point
There has been lots of bass boats on the lake the last few days. Two other clubs were also running tournaments today. There were also a couple hundred boats practicing for the Citgo Bassmasters tournament coming up in the middle of September.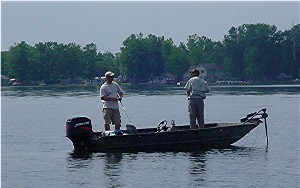 Chris French and Ryan Smith working a weed edge.
Most of us had been practicing over the last week, and seeing all the other boats on the water, we all spread out to lesser fished spots that we all know to find some fish that had not been "stuck".

Jack Loughrey and Bruce Mulholland come cursing by.
It was not the easiest day on the water. When we all returned to the launch site at Aero Marina and started to compare notes, we all agreed that there is LOTS of bait in the lake. It seems like, firstly you had to "match the hatch", and secondly, you had to find a place where there were not large schools of bait.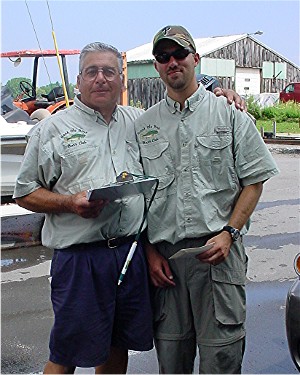 President, Tom Hudson, presents 5th place to Ryan smith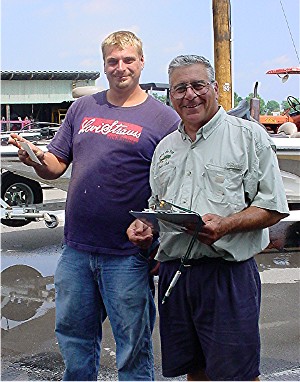 4th place to Bruce Mulholland.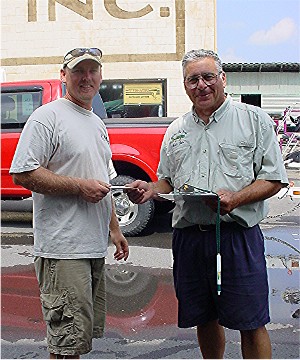 3rd place to Chris French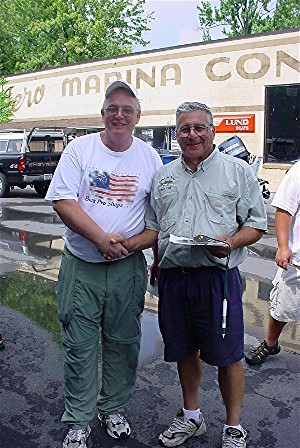 2nd place to Dick Hyde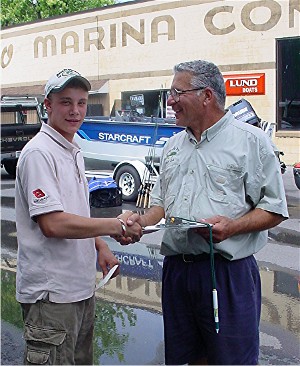 And first place to Aaron Sheldon
Aaron is our young protégé. A high school student in Fulton, NY, he has been with our club now for two years. He was fishing today with Dick Hyde, and by following Dicks' example and listening to Dick, he really "spanked" Dick. We all are very proud of this fine young man.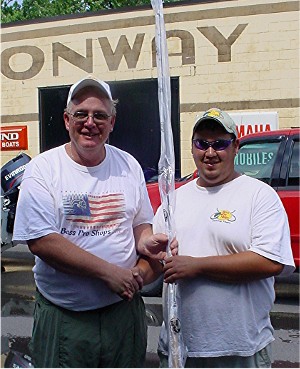 Dick Hyde from Bass Pro presents the rod to Brad Rogers
Bass Pro has generously donated a rod for the first member just out of the money, Today that prize went to Brad Rogers.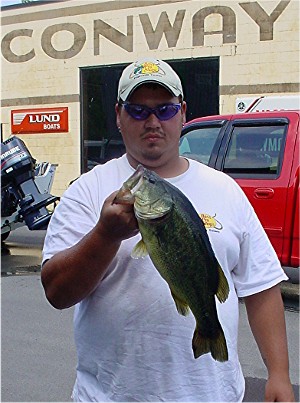 Brad Rogers with the big bass for the day, a 4.07 pound largemouth.
Big Bass for today went to Brad Rogers with a 4.07 pound bass.
How did Aaron do it?
Aaron was fishing as a non-boater today, He was with Dick Hyde, so he went along for the ride. They set up in 13 foot of water off a point. Dick let Aaron borrow this "Rattling Vibe" and they both worked the rock point all morning and culled quite a few fish.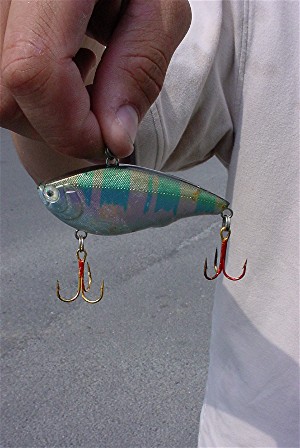 Those of you who visit our web page regularly, know that in our club the winner must show the lure that he used and then tell us the depth of water and the type of structure that he was on. He does not have to tell us the exact spot, even though some of us know exactly where he fished. Remember, we see him on the water during the day.
We do not put that exact spot on this web page because searching and exploring any body of water is what makes fishing fun. We want you to explore, and learn, the hot spots on your own. You may even find a more productive spot than our winning fisherman did!
Because of the Citgo Bassmasters coming to Oneida Lake in the middle of September, this week we are making an exception. Dick and Aaron were working off Shackelton Point, right in front of the Cornell Research Station.
Because all of our club members share their information at the weigh-in, the one thing that we found in common was the depth of water. Everyone had their best luck, and caught most of their fish, in 12 to 14 foot of water just outside of the weed edges.
Good luck to all you B.A.S.S. Citgo Bassmasters. Many of us will be there to see your weigh-in.