Lake Neatahwanta
Saturday, June 18th 2005
The day broke with a beautiful sunrise and no rain but very cloudy. This small lake is just outside of Fulton NY. Average depth of around 6 feet, with the deepest part just over 12 foot.
Because of drainage from the many farms in the watershed, the lake is very stained with visibility into the water of 4 to 5 inches at most. There are many 5 plus pound bass in the lake, On good days it will take 20 pounds to win on this lake, but that was not to be today.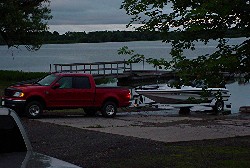 Greg Breen launches
Blast off was at 6 am. The launch can handle two boats at a time so we were in the water quite fast.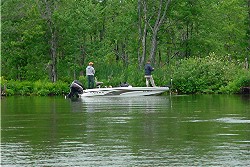 Greg Breen and Garret Kinney working the shoreline.
The lake was calm until 8:00 am and then a light north breeze came up. This lake is very similar to the impoundments of the south. Shallow and stained water. A good practice lake for anyone thinking of playing with the big boys down south.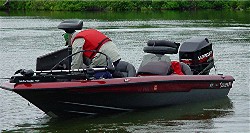 Jack Loughrey puts his rods away while waiting to dewater.
Our club only fishes for 6 hours (noon). It makes it tough with 2 hours less then most clubs, but does get us home in a timely manner before our wife's get to upset.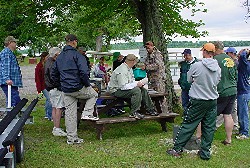 Everyone gathers around for the weigh-in.
Fish are weighed in on a certified digital scale, to within 100th of a ounce.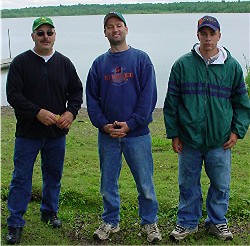 Treasurer, Craig Raponi presents Jack Loughery and Aaron Sheldon with first place having 5 bass weighing 13.09 pounds
This is one of two "team" tournaments that we hold each year. Boaters and non-boaters are "seeded" according to their standings in the club. Top boater fishes with bottom non-boater, then second boater with second for bottom non-boater, etc.
Treasurer. Craig Raponi presents Greg Breen and Garret Kinney takes second place with 11.53 Pounds
The team tournaments only pay first, second and big bass.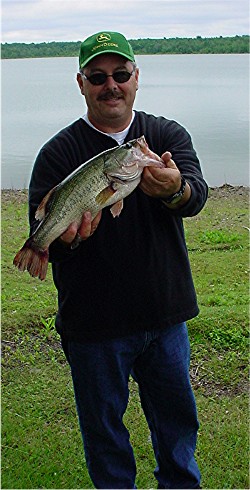 Jack Loughery show off his big bass, a 3.67 pounder
Bass Pro shop in Auburn very generously donated a couple of graphite fishing rods for the first team just out of the money.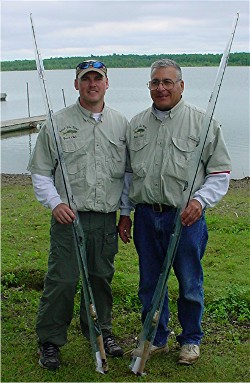 Chris French and Tom Hudson show off their new rods
Now, how did Jack and Aaron win the tournament. They used Bass Pro's Tournament Series tubes. The color was "broom sand", and they worked the weeds all along the edge of the lake.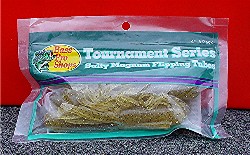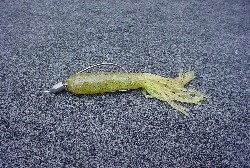 They had a 1/4 oz tungsten bullet sinker in front of a # 3-O hook.