Club Classic
Sodus Bay, September 17, 2005
and
Fair Haven Bay, September 18, 2005
Dick Hyde holds off late charge from
Ryan Smith
Saturday, September 17th at Sodus Bay. Blast off was at 6.30 a.m.
It was just another beautiful day on the water. A 5 - 10 mph wind out of the west, with rain in the early morning, then clearing around 10:00 a.m.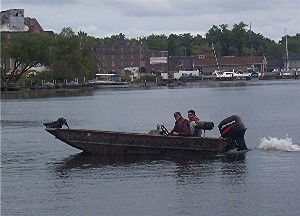 Ryan Smith and Eric Wilsey get ready to "blast off"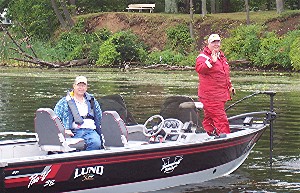 Paul Hudson and Connell Raate working the shore line.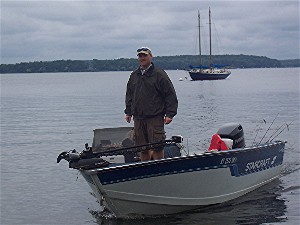 Boater Tom Hudson (behind Chris) gets ready to drop Chris French off at the dock.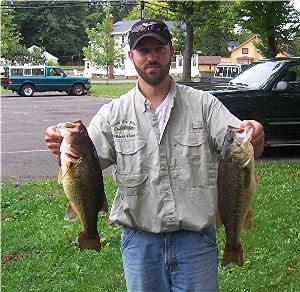 Ryan Smith is in the lead after day one.
He shows off two of his big fish.
Ryan Smith goes into the lead at the end of day one with a catch of 5 bass weighing in at 15.37 pounds. He also takes big fish for the day with a 3.81 pound largemouth.
Dick Hyde. going into the classic with the lead for "angler of the year" was in 5th place after day one. He knew that he would have to "knuckle down" on day two to hold off the charge by Ryan Smith who was in 3rd place going in, but was making a charge to the front.
How Ryan did it.
When it comes to fishing, Ryan can work many different lures and techniques. He tried many different presentations during the morning, but settled on a white spinner bait working over the weed edges in 8' to 12' of water.
Sunday, September 18, 2005
2nd day of Classic
Fair Haven Bay
The weather broke during the afternoon on Saturday, so on this Sunday we had a very beautiful day on the water. Although most of us wished that there was a little more "chop" on the water, we could not have asked for a better day to enjoy fishing with a great bunch of fishermen.
At 1:00 p.m. we all met in the parking lot of the park and weighed in our catches.
After all fish were weighed in and both days total up, here are the standings for the "Classic"
Our new treasurer, Chris French presents the payouts to--------
Sorry, Picture is unavailable
Connell Raate took 5th place with 14.11 pounds.
Sorry, Picture is unavailable
Jack Loughery took 4th place with 15.53 pounds.
Sorry, Picture is unavailable
Eric Wilsey took 3rd place with 16.94 pounds.
Sorry, Picture is unavailable
Dick Hyde took 2nd place with 18.16 pounds.
Sorry, Picture is unavailable
And Ryan Smith took 1st place with 20.45 pounds.
Sorry, Picture is unavailable
And Connell Raate took big bass on the second day
with a 3.45 pound largemouth.
So, after all was said and done, Dick Hyde held onto his lead and is our "angler of the year" by the slimmest of margins - just 3 points.
In conclusion, we had a very good year. All of our members caught fish and we all had a very good time. There was a lot of joking around and some practical jokes. The last two words in our by laws are "have fun" and the picture below shows some of the fun we had this year.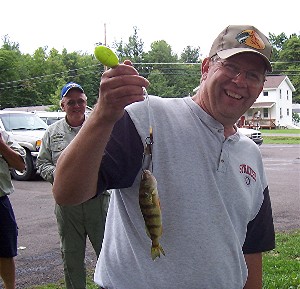 Paul Hudson shows off his "Big Bag"
We hope to see all of you again next year. Don't forget our club dinner and awards banquet which will be held in January again this year. You will be contacted by e-mail once a date has been set. Please plan on attending. There are always great door prizes up for grabs. You must attend to win them.