New York State Canal Clean Sweep
April 18th and 19th 2009
The Good Ole Boys Bass Club along with our junior club, the Good Ole Boys Junior Bassmasters participated on Saturday and Sunday, April 18 and 19 in the 4th Annual Canal Clean Sweep campaign for the New York State Canal System.
The kick-off for the Fourth Annual Canal Clean Sweep weekend in recognition of celebrating (2009 Earth Day), began on Friday morning, April 17 at the Aqua Vino Restaurant/Museum on the Erie Canal in Utica, New York.
This Canal Clean Sweep campaign, in preparation for the upcoming 184th consecutive navigation season on the New York State Canal System was partnered and sponsored by the New York State Canal Corporation, Parks and Trails New York, the New York State Environmental Facilities Corporation (EFC) and the New York State Consumer Protection Board (CPB). New for 2009, the CPB and Confidata of Utica, NY, co-sponsored and hosted a day of FREE shredding for the general public.
For a complete write up on this day go to our Junior webpage by clicking on the link below.
http://www.gobjuniorbassclub.com/canal_clean_sweep.htm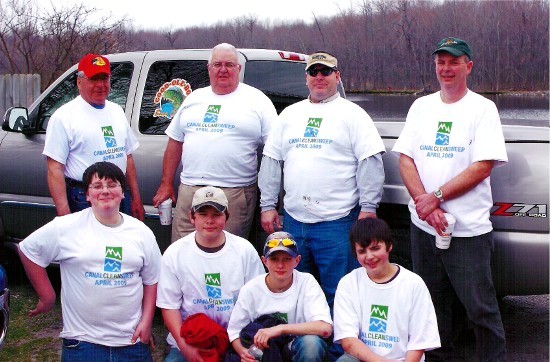 Four senior members and four junior members prepare to "clean up"